(Ft. Myers Beach to Charlotte Harbor) Summer is here and the fishing has been fair. This week brings forward a 'full' moon phase offering high tide levels and access to remote areas not accessible to many anglers during 'mid-moon' phases. Hopefully, the currents will provide more oxygen and improve the 'bite'. Threadfin's are fairly plentiful and are best for Snook and Tarpon. Unfortunately, 'white' bait fishes have been scarce.
Therefore, the baits of choice for Redfish, other than artificial presentations, will be big shrimps, cut Pinfish and crabs. Redfish are showing up more and more and with the early hot temperatures, I expect the big bull Redfish to come in from the gulf sooner than later this year. Seatrout have been hard to find with any size to them. Look for them to hold up in deeper holes during the hot days of the week and use small shrimps to insure lots of action from the species. Tarpon are still in the area, mostly off the beaches and in Boca Grande Pass. Crabs seem to be the most effective bait.
Offshore should be good so long as the weather permits. Be safe and try to get in early to mid-afternoon ahead of the storms. Inshore boaters and anglers should be cautious as well.
Over the last few months I have had great pleasure to take out several 'Junior' anglers. Pictured here from Lakeville, MN. is Aidan Andre (9) holding just one of many fish he caught while fishing Pine Island Sound. Great going Aidan!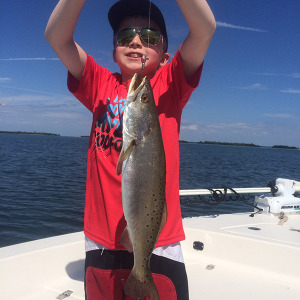 Six (6) year old, Kinley Gillihan of Kansas City, Missouri is pictured with a nice Seatrout she caught. Kinley also caught a shark all by herself. She is a terrific future 'lady' angler!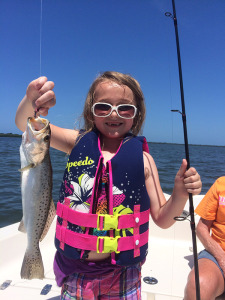 The Jacobs Family from St. Charles, Missouri (once my home town area), accompanied me on a charter. Lee (11) is holding a Jack Crevalle he caught. His brother Austin (9), is pictured with a nice Seatrout. Both boys caught their share of fish and are destined to be 'big time' anglers! The family (Karen, Todd, Lee and Austin) are pictured together after a wonderful afternoon on the water. Thank you Karen and Todd. I enjoyed the time we had together!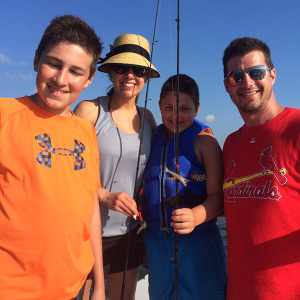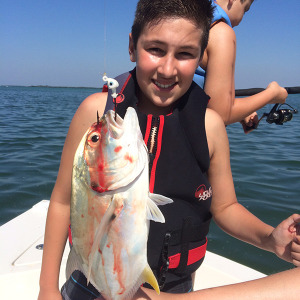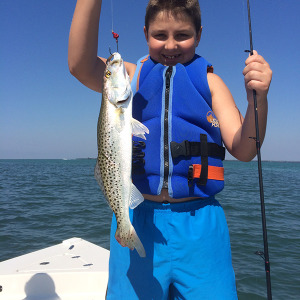 Until the next 'report'; this is Captain Terry Fisher wishing everyone tight lines and safe boating. Charter information may be obtained by calling me at 239-357-6829 or emailing me at fishfacecharters.com. More articles and information may be found on my website at www.fishfacecharters.com