Southwest Florida Yacht Club (SFYC) just returned from their bi-annual Touch of Class & Swamp Grass cruise led by Ed and Shirley Hatter and Rick and Lindsey Scheinert. This is the fourth time for this popular 7 day cruise and it traveled the back waters at high tide to Marco Island, Goodland, Everglades City and Naples, with thirteen boats ranging in size from 35 ft. to 53 ft. This cruise has several important traditions, including casual biking around Marco Island and dinner at the Marco Island Yacht Club, Sunday afternoon at Stan's Idle Hour in Goodland, and a couple of days at the Rod & Gun Club in Everglades City. However, the highlight of the cruise is always the intricately staged party called "The Event" and the 2015 Event of Al Capone's 1920's Speakeasy, Tattoo, did not disappoint.
Prior to leaving, participants drew their assigned characters from a hat, including Al Capone, his wife Mae, gangsters, Chicago cops, bathing suit beauties, flappers, film stars, directors, etc. The lovely pool deck at the Marco Island Marina was transformed into the Speakeasy, Tattoo. Attendees arrived in costume and, after assuring the coppers outside that they were indeed attending a "family picnic"
proceeded to the speakeasy door, complete with sliding peephole, where they provided the secret password to the gangster-cum-bouncer to gain entrance. Stepping back in time and into character, the attendees converged at Al Capone's 1920's Speakeasy. Pictures were taken through an old fashioned camera box as scripts and background materials were given for each character so they could play their role for the evening.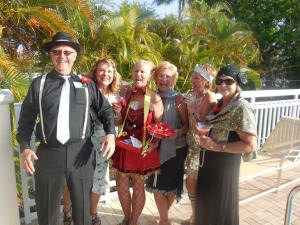 The film director presumably was there to hobnob with the rich and famous, including Chicago mayor Big Bill Thompson and his wife, the illustrious Clara Bow and, of course, his chief benefactor, Big Al himself. Al, who repeatedly claimed "I'm just a businessman, giving the people what they want. All I do is satisfy a public demand.", had a busy evening juggling his wife, mistresses (current and former), employees, rivals, the press and cops. During the 1-1/2 hour cosmopolitan cocktail party the cops raided the speakeasy, arresting old "Scarface".
An investigation by the cub reporter from the Sun Times ensued to determine who was the rat leaking information about Al's business dealings. Who was responsible for that arrest? Was it Al's straight-laced wife Mae, who made an unexpected appearance to create a scene with Al's secretary and current mistress? Was it Bugs Moran, a rival unhappy about the "Valentine" Big Al had sent him? Was it Al's number one gangster who seemed a bit too cozy with Bugs despite his promise to help Bugs "go swimming"?
No, the cub reporter uncovered the truth: one of the beautiful actresses claimed that she contracted "the Big S" from Big Al and, intent on revenge, was passing information to the authorities. But after all palms were sufficiently greased, Chicago's finest released Big Al and joined the party, where the cigarette girl and the flower lady were helping everyone part with their money. After the Cosmopolitans and Prosecco flowed, everyone sat down to a 1920's themed dinner followed with champagne toasting Mr. Capone's return. All became friends again. In other words, it was just another ordinary night at Big Al's Tattoo Speakeasy. A fun evening ended with a few people in the pool – some willingly, some not…some fully clothed, some not so much. Well, it was really hot!
Next stop was Sunday at Stan's in Goodland (on the southern tip of Marco) on the Marco River. This is always an interesting mix of people doing the buzzard lope after imbibing in a few buzzard drinks. Their motto in Goodland, "A Drinking Community with a Fishing Problem". Those who had not had enough to eat at Stan's went to "Lil Bar" before calling it a night. The morning we found smooth seas as our group of thirteen boats headed to Everglades City arriving at the historical Rod & Gun Club, via the Barron River. The Community was developed by Barron Collier during the early 1920's as a company town supporting the workers building the final 75 miles of the Tamiami Trail linking the coasts. Our guide, Martha, from The Museum of the Everglades gave us a two hour walking tour detailing the history of Everglades City from inception to the present time. It was most interesting and informative.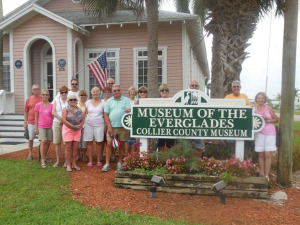 While in Everglades City we had excellent dinners at the Rod & Gun Club and Camillia Street Grill. Both were preceded by cocktail gatherings. The first evening involved "Who Am I", each person wrote an event, that perhaps even their spouse may not have known, and we guessed who it could be. Afterwards we certainly knew each other a whole lot better. The next morning we had our traditional dockside breakfast of eggs to order, waffles, sausages, fruit and coffee.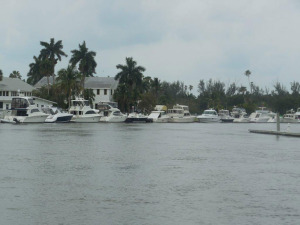 That evening was the traditional "Redneck Party" featuring an array of canned delectables such as spam, smoked oysters, sardines, and spray cheese, all served on the lovely fish cleaning station, artfully covered with newspapers. And how does one do a "canned" desert? Well, a squirt of whipped cream directly in the mouth of course! Everyone brought their favorite redneck jokes to share and came dressed in their interpretation of a "redneck" – which left a lot of room for creativity as you can see in the photo below.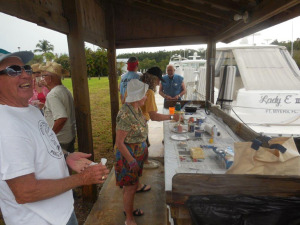 After a night of windy downpours the sun was out. Because the forecast was for high winds and even more the next day, most of the boaters decided to head directly home to Fort Myers and Cape Coral. As high tide approached we left and traveled in pairs. A few boaters decided it was too rough and went to Naples for a couple of days until the winds died down. They enjoyed the pool and had a fine dinner at Mangrove Cafe.
SFYC is a very active yacht club with more than 30 scheduled cruises per year ranging from 3 days/2 nights to 3-4 weeks in length, plus monthly lunch outings that are all accessible by boat. In the past month, in addition to the Touch of Class / Swamp Grass cruise, we have been to Snook Bight, Naples Sailing & Yacht Club, Legacy Harbour, and our annual Mother's Day cruise to South Seas Island Resort. We also have on average two social functions per month, many at our home base, The Marina at Edison Ford/Pincher's in Fort Myers.
If you are interested in participating in a trial cruise to meet us and see what we're about, or to arrange to attend one of our monthly meetings, please contact our Fleet Captain, Harvey Steele, at (239) 671- 8887 or hsteele@handeecleat.com. Much more information is also available on our website www.southwestfloridayachtclub.com.