(Ft. Myers Beach to Charlotte Harbor) Warmer weather and higher tides complimented by the new moon should provide excellent fishing over the next few days. My clients have had their share of fun with warm weather and mild winds over the past few weeks. Family charters have prevailed over spring break with many 'junior' anglers enjoying time on the water catching a variety of fish. Nine (9) yr old Seth Leohr from Indianapolis, Indiana is pictured with a huge Spanish Mackerel he caught while on a charter with his father Andrew. Both Andrew and Seth had a good day of fishing catching Spanish Mackerel, Seatrouts, Jack Crevalle and other species.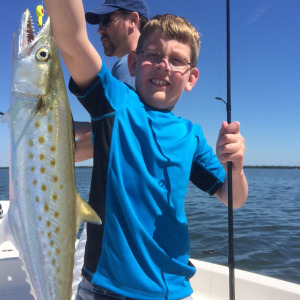 Another of my other favorite 'junior' anglers, Jack Gagliano (9) of Winnetka, Illinois is shown on the left, seated with Captain Terry. Jack's cousin, Paul (9) of Ft. Myers, Fl. is seated  on the right. Both boys enjoyed a day catching many Seatrout and other species. Not to be 'out-fished', Jack's father, Steve Gagliano is shown with a nice Snook he caught.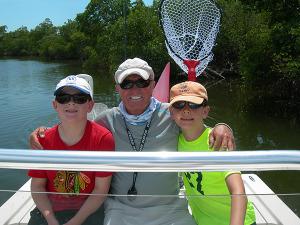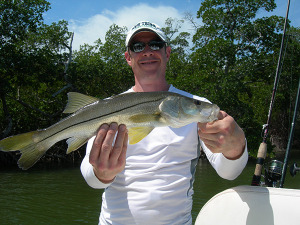 Fishing should get even better over the next number of days. It appears the cold fronts are gone and the warmer water temperatures are bringing in Tarpon and other species in full force. Bait fishes, shrimps and artificial patterns are all working well. Now is the time to 'go fishing'! 
Charter information may be obtained by calling me direct at 239-357-6829  or by emailing; fishfacecharters@yahoo.com. More articles and fishing information may be obtained at www.fishfacecharters.com.