(Ft. Myers Beach to Charlotte Harbor) Inshore fishing has been really good for Spanish Mackerel, Seatrout, Permit, Pompano, Jack Crevelle, Ladyfish and Snook. The Tarpon have started to arrive with water temperatures at 74 degrees. I have hooked up a couple of Tarpon while fishing the flats for Seatrout and Spanish Mackerel. The warmer waters are generating lots of action with 'feeding' frenzies erupting a couple of times a day at numerous locations in Pine Island Sound. Pictured here are my 1st Mate's (Vicki's) friends; Mr. R. D. Jones of Marion, Indiana holding a large Spanish Mackerel he caught on the northern end of Pine Island a few weeks ago. Accompanying him was Mr. Tad Hunter of Ossian, Indiana holding one about the same size. Both men caught their share of fish before the charter ended. Since then the Mackerel sizes have improved somewhat. Mackerels are being located throughout the deeper 'pockets' of water up and down Pine Island Sound.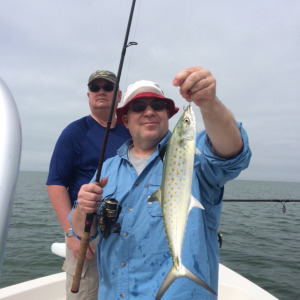 Numerous clients have taken the opportunity to capitalize on the Snook bite and the Snook 'season'. Pictured here is Mr. Steve Holladay of Waleska, Georgia holding his 29″ Snook caught around Punta Rassa while 'free-lining' a Threadfin. His friend, Mr. Russ Probyn of White Georgia caught 'his' Snook (pictured) using the same method. Nice job gentlemen! The Snook bite should be good the balance of the year and there are some big ones out there!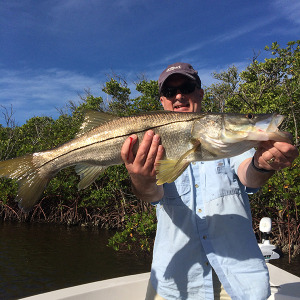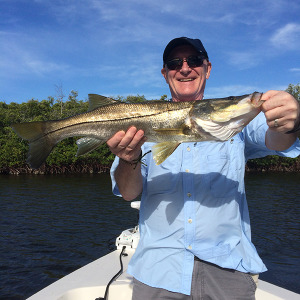 I also had the opportunity to take out my best 'Junior' angler; Jack Rober't (9 yrs.) of Blaine, Minnesota. He is pictured with a Pompano he caught on the flats. He was accompanied by his friend, Ethin Kluker (10 yrs.) of Centerville, Minnesota, pictured with Jack. Both boys (all grown up now) was allowed to go on their own with me and my 1st Mate Vicki. We had a great time with them. Nice going boys!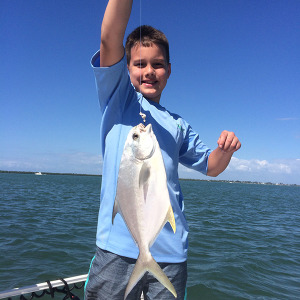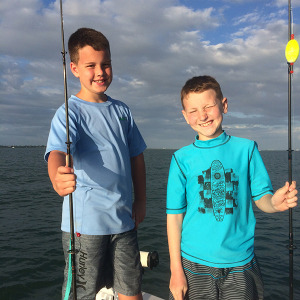 Fishing should be great all week with warm weather and the full moon on the horizon. Every species should be active on both the outgoing and incoming tides. Until next report, this is Captain Terry Fisher and 1st Mate Vicki wishing everyone 'tighter' lines and HAPPY EASTER! Charter information may be obtained by calling me direct at 239-357-6829 or emailing fishfacecharters@yahoo.com. Check out my website, www.fishfacecharters.com for more articles and complete charter information.