Ft. Myers Beach to Charlotte Harbor – Fishing has been good even though we have been in between the full and new moon phases. This has been attributed mostly to good tides, good wind directions (southeast, southwest and westerly), warm weather bringing migrations of Tarpon, King Fish, Cobia, and Spanish Mackerel close to our shores. Other species such as Snook, Redfish, Seatrout and super size Jack Crevalle are providing plenty of action in virtually every area that one would expect them to be.
The balance of the month and the first week of May should produce lots of action on live, cut and artificial presentations. Snook season is open through April 30 and they are very active on live pilchards. Redfish are eating big shrimps. Seatrout, Spanish Mackerel, Lady Fish and jack Crevalle are plentiful, aggressive but are not particular about what they eat. Tarpon are everywhere, so don't be surprised if one takes your light tackle presentation. Moving water is the key to catching any of these species. Fish the incoming and outgoing tides.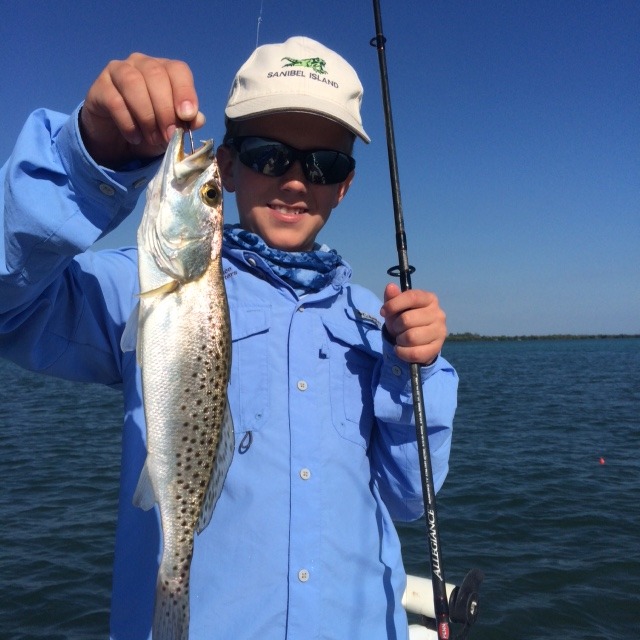 My favorite 'Cowboy', Wyatt Day (12) of Cheyenne, Wyoming spent the better part of a day with me catching his share of fish. He is pictured here with just one of his many fish he caught during his annual visit to Sanibel. I have the opportunity to fish with Wyatt at least once a year and it is a real joy for me. Wyatt participates in the Rodeo circuit during his time in Wyoming. He wins his 'junior' division just about every time he competes and has the trophies to back it. Wyatt is fast becoming a 'top' junior angler as well. He is very knowledgeable and good at catching a variety of species when the opportunity presents itself.
This is a great time for recreational boaters and beginning anglers to get out the fishing gear. The 'bite is on'! Anyone wanting assistance on how to navigate, where to fish and how to fish, should not hesitate to contact me. I will be happy to offer advice and suggestions to make your boating and fishing desires/experiences fun and productive.
This is Captain Terry Fisher of Fish Face Charters wishing everyone 'tight lines'! Contact me at 239-357-6829 or email me at fishfacecharters@yahoo.com with questions or for charter bookings. Check out www.fishfacecharters.com for additional articles and fishing tips.