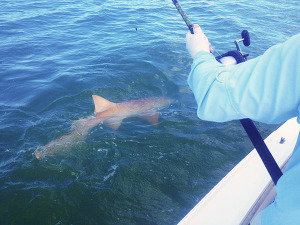 Fishin Update – 4/16/15
Sea Trout have been pretty steady at Laishley Pier between sun up until around 9 and 10 o'clock in the morning. Here, the trout are hitting live shrimp under a poppin cork. Try to get about 4 feet from your hook to the cork. Casting might be harder with that much line under the poppin cork, but just let the tide drift it away from the pier. Then pop your cork and wait 20 seconds or so, and then pop your cork again.
Sea Trout have also been steady at Placidia pier, usually about an hour after low tide. Use free line shrimp off the first half of the pier. This is a short cast out, and once you cast, give your line some slack, then when it gets tight give it a little more slack. Fishing here is better when you are closer to the shore than farther out on the pier.
---
Fishing Update – 4/18/15
This week has been and continues to be good fishin.  Catching Red Grouper, Trigger Fish, and Mangrove Snappers out in the gulf around 60-80 feet of water.  Many of the Snapper are 3 pounds or more.
Also, Mike sent us this fishing report:
'Hey Frank.  Fished Thursday at the Placida trestle on the incoming tide. Caught several undersized sheepshead and mangrove snappers; also a couple of stingrays. We did manage several fair sized whiting on shrimp. The sharks were biting very well, blacktips and bonnet, all in the 3-4 ft. range. I caught my blacktip on a pinfish. 
Love your website and the store. – Mike H'
---
Fishing Update – 4/20/15
We are seeing a bunch of Sea Trout from PC beach up towards the cut-off. To catch, use shrimp or white bait under a poppin cork. This is a nice size school of fish, and most are in the 20 inch size range.
Triple Tail are still out in the near gulf and a few have been spotted in the Harbor. To find them, look for crab trap floats or really anything that's floating. You may even find Triple Tail hanging around at some of the markers. In order to find Triple Tail, cruise along as slow as you can go with your boat while it's still on plane. If you see one, it will look like a dirty rag just under the surface, with its face, hiding under the object. It's almost like a little kid thinking 'if I can't see you, then you can't see me'. Do not stop the boat for at least 100 yards once you spot a Triple Tail, then make a turn and come back quietly. Then cast at them free line with a small shrimp or white bait.