(Ft. Myers Beach to Charlotte Harbor) In my last report, I felt that coming into the 'Full Moon' Phase would produce some good fishing if the winds allowed access to 'less pressured' areas for both Snook, Redfish, Seatrouts, Pompano and other species, and it did. Pictured here is junior angler, Tom Moslander III., of Granite City, Il. proudly displaying a nice Redfish he caught on a jig with a shrimp (under a cork); while hIs grandfather, Tom Moslander caught this large Jack Crevalle on the flats, just off of Sanibel in Pine Island Sound.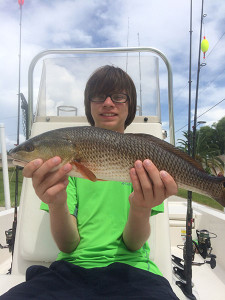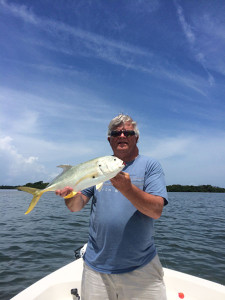 A few days later, Mr. Mike Swift of Ft. Myers was given an 'anniversary' charter by his lovely wife, Rebecca. Mike landed this 29 " Snook in the back country behind 'Burnt Store Bar'. Mike also had lots of success when he landed a couple of nice Redfish in the Pineland backcountry earlier in the day.
Inshore fishing should continue to be good all this week as the 'Full Moon' just begins to phase out. Tides will be good and if southerly winds 'blow', lots of opportunity awaits anxious anglers to access more remote areas. The Seatrout bite seems to have picked up a bit and hopefully will continue. Pompano, are being caught off of the sand shoals in about 5 to 6 ft. of water on shrimp under corks. Look for 'murky' greenish colored water.
Offshore reports good Red Grouper, Cobia, Gray and Yellow Tail Snapper bites. Tarpon still around with the better bite off of the lighthouse around Sanibel Island.
This is Captain Terry Fisher wishing you 'tight lines'! Charter information and other fishing articles/tips/ reports may be obtained on my website; www.fishfacecharters.com. Feel free to call me at 239-357-6829 or email me at fishfacecharters@yahoo.com to book a charter.