(Ft. Myers Beach to Charlotte Harbor) Last week's fishing continued to produce some decent back-country fishing for all of my clients. Some bait fish remained in the area allowing me to throw the cast net for baits to feed the Snook and Redfish. Pictured here is Mr. Blaine Duncan of Saskatoon, SK. (Canada) holding his first Redfish catch here in SW Florida.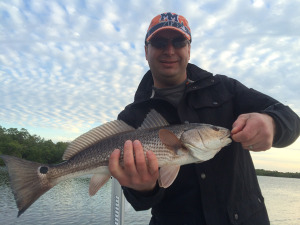 The Seatrout bite is good, but I am still looking for some bigger ones which become more plentiful on the flats during the winter months. Mr. David Whitaker of Tennessee is pictured holding a nice Seatrout caught under a cork with live shrimp while here at a corporate sponsored 'outing' with the Vantacore group, based in Philadelphia.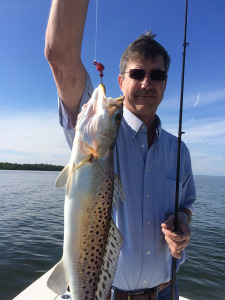 The Spanish Mackerel and Pompano bites are picking up. Mr. Barry Fink of Pittsburgh, PA is pictured holding his first Spanish Mackerel. His friend Jason Jumonville, of Baton Rouge, LA., is holding a large Pompano that he had the pleasure to fight and land on light tackle. Both Barry and Jason were with the Vantacore group as well.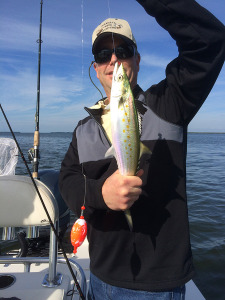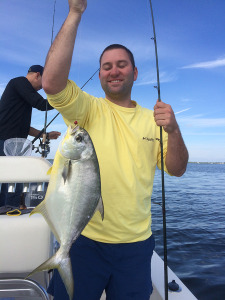 Sheepshead, Flounder and Mangrove Snappers will round out the balance of the back-country species. Recent, cooler water temps will attract the bigger Sheepshead and small pieces of shrimps or fiddler crabs will be the key to catching these fighting, tasty morsels, sometimes referred to as 'poor man(s) lobster'.
Offshore, the King Mackerel bite is on as well as good bottom fishing for grouper and Snappers. Grouper should begin coming into the back- country pot holes, since the water temperature is rapidly dropping due to the early cold fronts this year.
Warmer forecasts for the coming week should provide lots of opportunity to get on the water and fish. Fishing should remain good for the species mentioned above. Until the next report this is Captain Terry Fisher of Fish Face Charters wishing everyone 'tight lines'! Charter information may be obtained on line at www.fishfacecharters.com or by calling or emailing me directly at 239-357-6829 or fishfacecharters@yahoo.com. Those wanting boating and/or fishing instructions, feel free to inquire as to 'special' hourly rates on your vessel. This will help you to have more relaxed and confidence when boating or fishing.