(Ft. Myers Beach to Charlotte Harbor) Last week's southerly winds, good weather and high tides provided 'prime-time' for catching numerous species for off-shore and in-shore fishing alike. Reports of Spanish Mackerels, Triple Tails, Cobia, Snapper and Grouper catches were good. Inshore provided some of the best action of the summer as we came off the backside of a new moon.
One of my better and most experience Junior Anglers, Jack Robert of Blaine, Minnesota, is pictured with his first Redfish. Jack has a natural ability to catch almost any fish that takes his presentation. Watching this 9 year old handle a fish is quite impressive. Every year, Jack's grandparents, Vicki and Charlie Lundgren of Minnesota, go all out to make sure Jack gets the opportunity to nurture his youthful skills, since he loves to fish. Jack has fished with me now for over two years and I was thrilled when he proved that he was ready to fish with the adults in the back country by landing the 23″ Redfish mentioned above. I have also included a picture of Jack and I together as he proudly displays another of the day's fine catches, a 23″ Seatrout.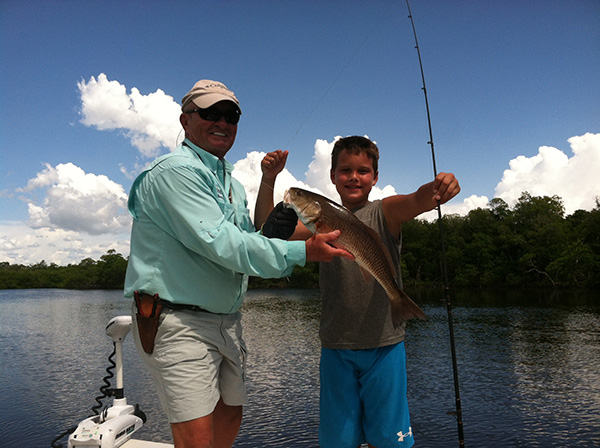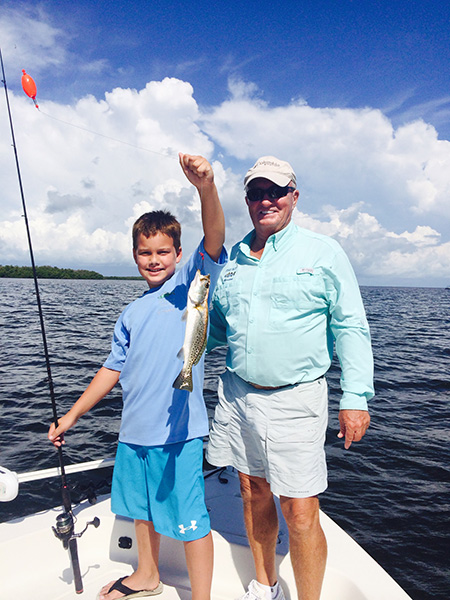 A full moon is 'on the horizon' and subject to weather should bring with it strong tides and more opportunity. Snook season is open. Early morning or late evenings are good times to target these nocturnal feeders. However, during tide movements, they will prey on live or cut baits properly placed along or into the mangroves. Redfish, Seatrouts, Spanish Mackerels and Mangrove Snappers are all too eager to eat as well.
This is Captain Terry Fisher of Fish Face Charters wishing everyone great success and 'tight lines'! Charter information may be obtained by emailing me at fishfacecharters@yahoo.com or via the website www.fishfacecharters.com or call me at 239-357-6829.