(Ft. Myers Beach to Charlotte Harbor) This time of the month should produce great action as the full moon cycle takes its course. Migratory species, such as King Fish and Spanish Mackerel will only add to the grouper and snapper action for off-shore anglers. Inshore should produce plenty of Snook, Redfish, Seatrouts and Mangrove Snappers to round out the flats and back country opportunities. Pictured here is Mr. Werner Baumgartner of Germany holding a 28″ Redfish that he caught in the back water areas of Punta Rassa Bay. Prior to that he landed a nice 17″ Permit on a shrimp under a cork in Pine Island Sound.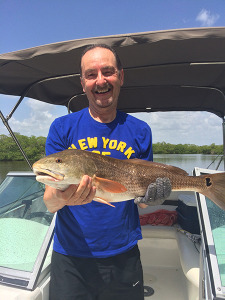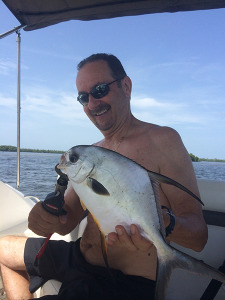 During this month, my 1st Mate and I are headed to Europe to fly-fish the Italian rivers of Tuscany and experience salt water fishing on the northern Mediterranean Sea around southern France. We are hoping to catch trout and Grayling in the rivers and salt water game fish in France. I am looking forward to writing about these experiences to share with our fishing friends so as to compare those experiences with our own back here in beautiful SW Florida.
This is Captain Terry Fisher of Fish Face Charters saying Bon Voyage and 'tight lines' to all of my weekly readers. Additional articles and charter information may be obtained by checking out my website; www.fishfacecharters.com or by emailing me at fishfacecharters@yahoo.com.