(Ft. Myers Beach to Charlotte Harbor)
October finished strong for most inshore species, including Flounder, Spanish Mackerel, Mangrove Snapper and decent size Seatrout joining the 'party'. Pictured here is Dave Anderson of Lake St. Louis, Missouri holding a nice Flounder he caught around Cabbage Key while 'free-lining' a shrimp under a cork along mangrove trees. I was 'Captain for Hire' on Dave's new 24ft. Boston Whaler Bay Boat. Dave and his wife Barbara learned some fishing locations, strategies and techniques that yielded each of them a Redfish along with a number of other species, including Snook.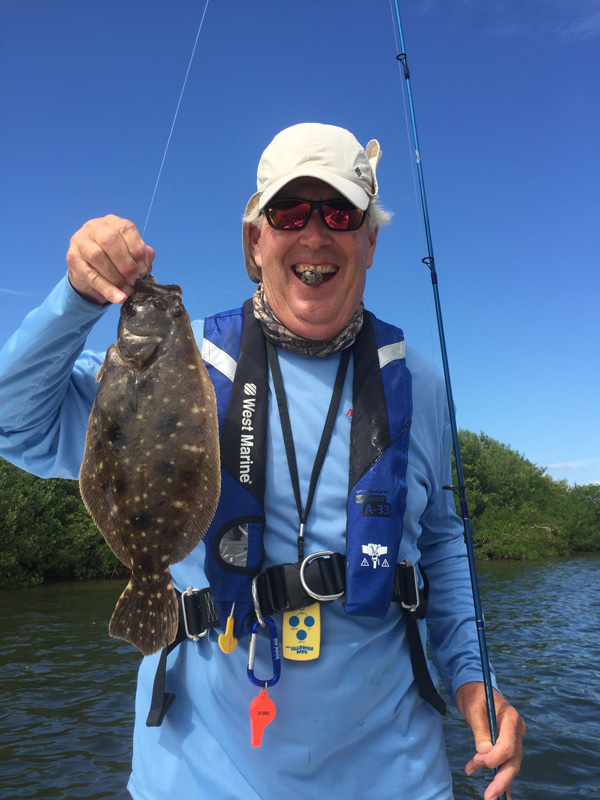 My friend and frequent clients, Martin Smith of Ft. Wayne, Indiana and his sister-in-law, Cindy Emmerick of Cape Coral are pictured with their October Redfish catches. Cindy's Redfish hit so fast and hard on very light tackle that it took both of us to 'get a handle' on the situation to prevent the fish from reaching the mangroves. Cindy initially thought that she had hooked a Manatee! Nice job Cindy. Love fishing with you guys!
So far, November has proved to be very tough in light of the cold fronts and low 'daytime' tide levels. However, I expect that mid-month fishing should improve, so long as the cold fronts remain moderate. The tide levels will be higher and help offset the slower bite. November is a transition month. I am seeing more of a variety of species. Grouper will begin moving inshore, and holding in deep pockets of water. Larger Sheepshead and Mangrove Snappers are being caught. Spanish Mackerel activity should continue to pick up a bit.
1st Mate Vicki and I have a booth at the show and are located in the hallway along the riverfront side of the convention center. I am scheduled to do seminars each day (Nov. 17-20). Stop by and say hello please! Looking forward to another fabulous event. It gets better every year.
This is Captain Terry Fisher of Fish Face Charters. Check out our website at www.fishfacecharters.com. Call 239-357-6829 or email fishfacecharters@yahoo.com for immediate assistance to schedule a charter or 'Captain for Hire' on your vessel.