(Ft. Myers Beach to Charlotte Harbor)
Father's Day weekend proved to be fantastic fishing. The moon was full and the tides were high providing good opportunity all week long. I had better results in areas north of the Sanibel power lines. The release of water from Lake O continues to muddy the water up around the mouth of the river and continues to have a negative impact on the fishing. Water north of the power lines is much cleaner and continues to produce Sea Trout, Redfish, Tarpon, Snook and other species. It seems that the further one goes north up the Inter-Coastal, the better the fishing is.
Pictured here is a group of fishermen and ladies from Orlando, Cape Coral and Ft. Myers, displaying their catches. Included is a nice Pompano caught by Don Prachel of Lecesse Construction. It was a day out to reward those in the picture for the fine job that they do for the prominent construction company. Two other boats were in the group and had a 'field' day as well! Great job Lecesse Construction anglers!
Mr. Patrick Cahill of Long Island, New York wanted to try his luck at Redfish. We had to postpone the charter for several days due to the tropical storm that came through on the 6th and 7th of June, but it was worth it. He is pictured with his first Redfish. Patrick has fished all over the country. He was visiting his brother who resides in Cape Coral. Good job Patrick!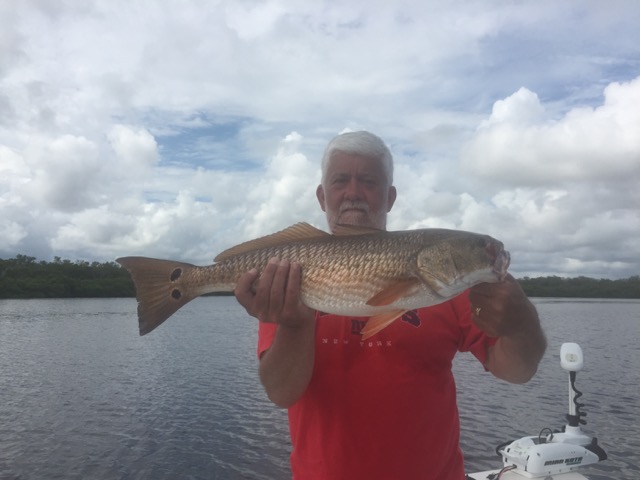 Father's Day Weekend produced a great outing for Wes Jackson, his 10 year old son Logan and grandpa, Gary Jackson all of Punta Gorda, Florida. They are pictured with 3 nice Redfish. The charter produced 5 Snook and 5 Redfish in total, excluding the ones we lost in the scuffle. Logan showed his skills when he caught 4 of the 5 Snook. Good going Logan! Happy Father's Day boys, from April Jackson!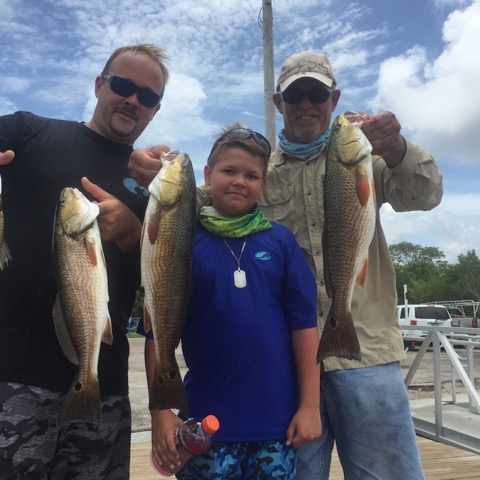 Fishing north of the power lines should continue to be good in the back country areas at least until the end of the week (before the tide levels drop due to the half moon phase). Fish the morning hours on the open flats for Seatrout before it gets too hot and slows the bite.
South of the Sanibel power lines, high tides will continue throughout the week allowing access to shallow, back country for Snook and Redfish. However, expect to catch lots of Catfish when fishing for Seatrout and other species on the open flats. I contribute this to the negative impact of excessive, fresh water releases from Lake O.
This is Captain Terry Fisher of Fish Face Charters hoping that this report assists you in your boating and fishing endeavors. I am easily reached at 239-357-6829 or via email at fishfacecharters@yahoo.com. Check out my website: www.fishfacecharters.com for charter information. I am also available as 'Captain for Hire' on your vessel (by the hour), for navigational, fishing techniques and fishing locations. 'Catch' my monthly fishing articles in Coastal Angler Magazine, found in many boating, marine and tackle locations of Lee and Charlotte Counties.