(Ft. Myers Beach to Charlotte Harbor)
Opportunity for some good fishing should be in order for the weekend and the days following. The weather reports are favorable and tides will be high and with strong current even though we are approaching a mid-moon cycle.
There is plenty of bait around and everything seems to be eating shrimps. The Seatrout bite is good with sizeable fish. Some nice Sheepshead still remain. Nice size Mangrove Snappers are holding inside the passes in about 34 ft. of water. Snook are cruising the docks, mangrove islands, beaches and passes. Redfish are around oyster beads surrounding points, shoals and mangrove islands. Cobia and Tarpon are all here and in Pine Island Sound from Punta Rassa and throughout Charlotte Harbor.
Junior anglers of all ages are getting in on the action this year. Abbey Suker (8) of Lakeville, Minnesota shows off one of many fish she caught while vacationing here at her grandfather's (Don Suker) home in Ft. Myers. Nice job Abbey. Looking forward to doing it again.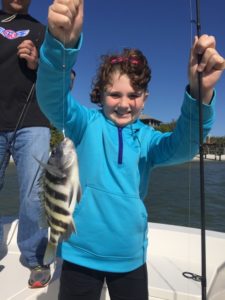 Austin Jacobs (10) of St. Charles, Missouri, is becoming quite the angler. He is not a stranger to fishing and I get the pleasure of working and watching him 'grow' on yearly fishing adventures. He is showing off one of his many catches of the day. His cousin, Jack (6) is pictured with his 'catch of the day' as well. This was Jack's 1st 'salt-water fishing adventure. Nice going you two! See you soon Austin!
Remember to 'work' the tides. Water movement is crucial to catching more fish. Recreational boaters and fishermen should be on the water while the tide is moving in or out. It will make little difference on the grass flats, which will prove the better of the two (especially this time of year when water levels are higher and currents stronger).
As a Marine, thanks to all of the veterans who have served our country proud, especially my neighbor and World War II Best Selling author, Henrik Lunde, United States Army Ranger/ Colonel, Retired.
This is Captain Terry Fisher of Fish Face Charters. Check out my website at www.fishfacecharters.com for charter information or email me at fishfacecharters@yahoo.com. For immediate assistance, call me at 239-357-6829. I am available as 'Captain for Hire' on your vessel by the hour for navigational training, fishing techniques and fishing locations, as well. Read more of my fishing articles in the archives of www.goboatingflorida.com and in the regional publication of Coastal Angler Magazine.