(October 29, 2015)
Last week the inshore fishing continued to be excellent for Redfish and Snook together with a number of other species, including but not limited to, Seatrout, Spanish Mackerel, Flounder and Mangrove Snappers. The most productive days were the ones prior to last weekend (October 24), before the cool front approached and the east winds started to blow.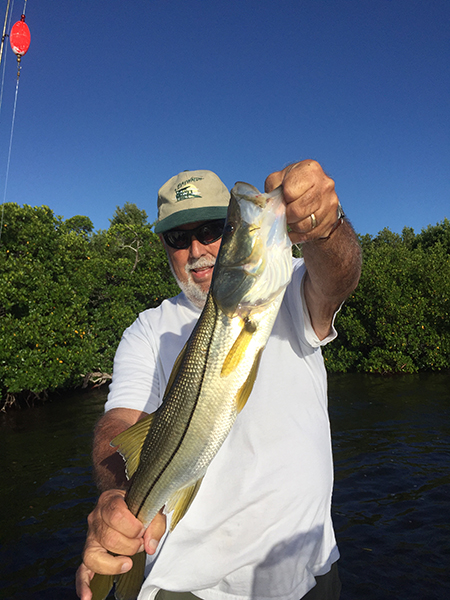 Nonetheless, with the full moon approaching, most all of my charter clients were able to secure Redfish and Snook catches. Pictured here is Mr. Wayne Hasson of Naples holding a nice Snook he caught while 'free-lining' a small Pilchard on a circle hook. Not to be out-done, his son, Davis Hasson, landed a nice Redfish on a large shrimp suspended under a popping cork in heavy structure, close to 'Bird' Key in Pine Island Sound. Davis caught two nice size Black Tip Sharks to top off the morning. The cold front made fishing that morning tough, but we all enjoyed the time together on the water and look forward to our next adventure.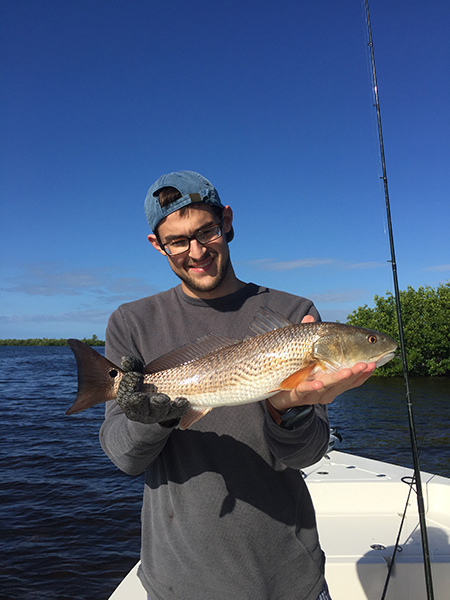 The full moon is upon and so long as warm weather prevails, fishing should continue be good for all species. Even though the harvesting of Snook will close on November 01, anglers may still target and enjoy the catch. Lots of small pilchards are in the area and are my preferred bait (free-lined on a circle hook) for Snook. I suggest using a cast net with a ¼" mess, otherwise the baits will 'Christmas-tree' and require lots of extra work to get them to release and still keep them alive.
Redfish will continue to inhabit the flats and backcountry so long as the warm weather holds. Other species such as Spanish Mackerel and Seatrouts are here in bigger sizes with all species available for harvesting. Be sure and get the FWC Regulations and Rules governing the size, methods allowed and any other requirements or restrictions.
In closing, Vicki and I will be at the Ft. Myers Boat Show (Downtown Convention Center) on November 19-22. I will be doing seminars as well. My seminars will explain the many techniques that I utilize to catch inshore species. Be sure and stop by and say hi!
This is Captain Terry Fisher of Fish Face Charters, LLC saying so long and tight lines! Obtain charter information at www.fishfacecharters.com or call me direct at 239-357-6829 with any questions or to schedule a charter on your vessel or mine.