(Ft. Myers Beach to Charlotte Harbour) Fishing was 'OK' the last few days as we struggled through the 1/4 moon phase approaching a 'new moon'. However all of next week should produce good opportunities as tides become higher during daylight hours providing strong currents, with good oxygenation. Tarpon are in good numbers just off of Captiva Beach just south of Redfish Pass. One may find them anywhere from the swim buoys to a few yards out. They are in Boca Grande Pass as well. The baits of choice are Threadfins, Crabs, Pinfish and Mullet. I suggest getting the baits down with a weight once the schools are spotted and moving toward the boat.
The Snook bite is excellent, especially when using live Pilchards. The problem is finding the Pilchards. Redfish seem to prefer large shrimp and cut baits such as, Pinfish or Ladyfish. Fish both species on the incoming or outgoing tides.
Seatrout and Spanish Mackerel will both be taken on grass and sand flats. I prefer to use a weighted jig head under a cork in 5 to 6 foot of water. It is hot in the afternoon and these fish are looking to 'beat the heat'! Mangrove Snappers are around the mangroves, as their name suggest. Use a circle hook under a small cork loaded with a small shrimp. Regardless of the species, always try to fish on a moving tide as 'slack' tides normally do not produce as good.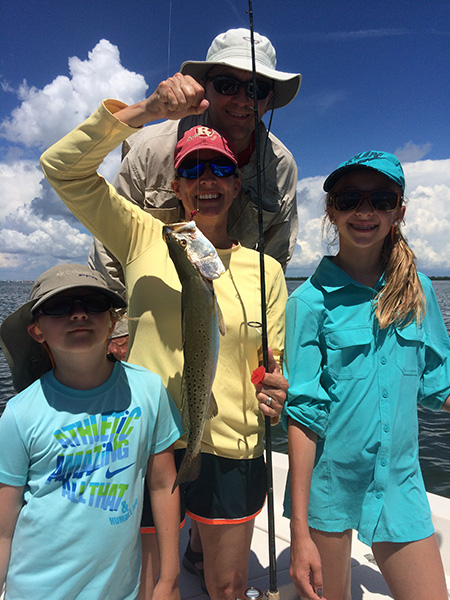 Pictured here are two of my recent family charters featuring youthful, 'junior' anglers. Firstly, the Kudlac family; John, Lea, Natasha and Alexandra from Greenville, S. C. Natasha (12) is holding a small Jack Crevalle. Her sister Alexandra (8) is holding a big Spanish Mackerel she caught. Not to be outdone, Lea caught a beautiful Seatrout measuring over 20 inches.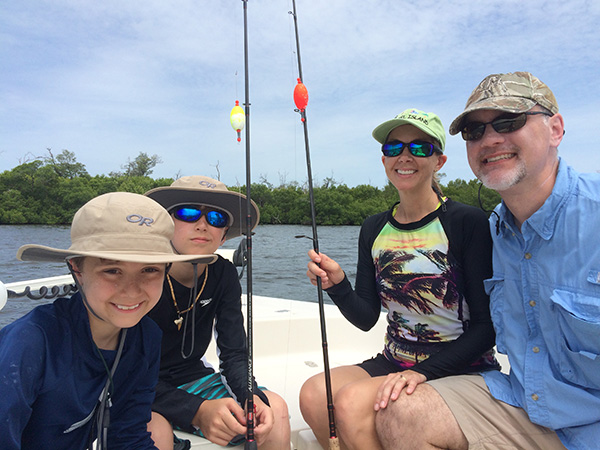 The Boethel family; Carl, Christy, Colter and Owen of Belton, Texas. Colter (10), is holding one of many Seatrout he caught. His 8 year old brother, Owen is holding a 17 inch Seatrout he caught on a shrimp under a cork. Both boys had a good day of catching as did their mother, Christy who caught a 3 ft. shark! I am looking forward to taking both families out again next year!
This is Captain Terry Fisher wishing everyone tight lines! Charter information may be obtained on my website: www.fishfacecharters.com. Charters may be booked via email at fishfacecharters@yahoo.com or by calling direct at 239-357-6829.