(Ft. Myers Beach to Charlotte Harbor) Last week fishing continued to be good. Spanish Mackerel are everywhere, large Seatrout catches daily, Pompano catches every other day or so with an occasional Redfish when I have targeted them. Sheepshead are still active. Pictured here is Roger Chen of Ft. Myers, Florida with a nice Sheepshead caught on a piece of shrimp on light tackle around and in some piles on the flats. His friend, Mary Blackmon of Naples, Florida, displays a nice Seatrout she caught on shrimp, under a 'cajun' popping rig. A variety of fish were caught on the charter making for a great 'trip'.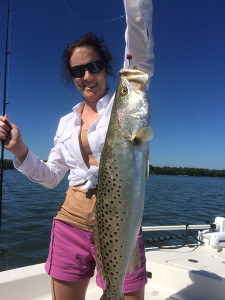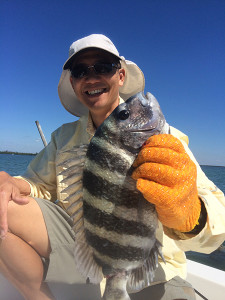 The day before I had the pleasure of taking Mr. and Mrs. Rick Jenkins of Cape Coral, Florida. Sheila Jenkins proudly displays a nice Seatrout she caught. Their  sons, Josh and Jake were aboard and everyone caught fish. I am looking forward to taking them  out again soon.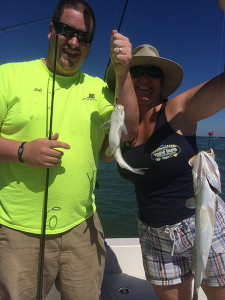 Fishing should continue to be good as the water temperatures rise. Catfish are active along with the Spanish Mackerels, which are signs of Tarpon returning to our areas. Tides are getting higher and stronger allowing access to more 'back country' locations. I plan on doing some Tarpon/Shark combo trips mid to late March as the migration begins in full swing, following Pilchards and Threadfins up from the 'Keys' and Mexico. Nauturally, these will become the baits of choice for Tarpon and Snook for the seasoned anglers.
In closing, I will be holding seminars from time to time at the Bonita Springs Boat Show during the days of March 6, 7, 8 and 9. Vicki and I will have a booth as always, so be sure and stop by and check the schedule! Until next week, this is Captain Terry Fisher of Fish Face Charters. More articles and charter information may be obtained on line at www.fishfacecharters.com or www.captainterryfisher.com. Email me at fishfacecharters@yahoo.com or feel free to contact me via cell phone at 239-357-6829 for immediate response.