Pink Shell Resort Marina on Fort Myers Beach was the February destination for 18 Cape Coral Cruise Club boats. Pink Shell, with its floating docks, white sandy beach, three heated pools, spa, restaurants and attentive staff, proved once again to be a great place for a monthly cruise.
Boats participating were "Happy Ours", Cruise Leaders Gary & Kathy Taake; "Sunkissed", Phil & Lyn Quick; "Sharon Ann", Sharon & Len Palmisano; "Moonlighter", Lee & Brenda Jetton; "Bow't Time", Terry & Laurie Carlson; "Lady Blue", Mike & Brenda Stewart; "KDJ", Mark & Sue Thompson; "Y Knot", Phil & Pat Kryger; Hardee II", Hal & Dee Moss; "Lady Mar", Rusty & Marlene Glover; "Knot Again", Larry & Mary Ann Habich; "Desperado", Jon Lynch & Debbie Schwab; "Semper Paratus", John & Pati Queen; "New Horizons", Ted & Beverley Hutson; "Robyn M", Rich & Robin McGloin; and "Daisy May", Bob & Bonnie Martin. Also joining the group were prospective members Bob & Carol Peterson aboard "C R Side" & Paul & Stephanie Carrico aboard "Infinite Sea", both boats completing their shake-down cruise.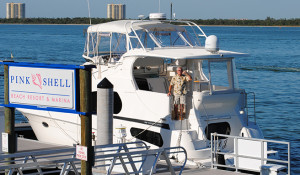 Arriving at the Marina, members were given electronic arm bands that provided access to all the Resort's amenities. Then, at 4:30, members met on the marina deck for cocktails and light snacks, before moving to a meeting room at 6:00 for a Pot Luck Picnic. Cruise Leaders Gary & Kathy Taake had prepared large pots of Pork Ribs and Smoked Turkey, and others provided side dishes and desserts, so it was an eat-all-you-can-hold feast.
After dinner, members were split into 2 teams, each with a "Brenda" Captain (Jetton & Stewart). Captains selected team members to participate in a series of eight "A Minute to Win It" games. Roars of laughter erupted during every game, with contestants trying hard to win in a one-on-one contest. There was the "Nose Dive" game where both contestants stick their nose in a pile of Vaseline, then pick up a cotton ball with their nose and deposit them in a bowl of water, a "Dizzy Mummy" game where one contestant turns in circles while being wrapped in toilet paper, and 6 other games. Each team won 3, so there was a final tie-breaker for the 2 captains.
Each Brenda was given a pair of panty hose with a penny in each toe. The ladies had to slip a panty hose leg over each arm and extract the pennies without crossing their arms or using hands on the opposite leg. After wild gyrations, Brenda Jetton was the first to extract the 2 pennies, so her team was declared the winner. Prizes were $100,000… (Small candy bars called "Hundred Grand") for winning team members and "dum-dum lollipops" for the losers. Every contestant was a very good sport, and our thanks go to them for participating. Lots of laughs!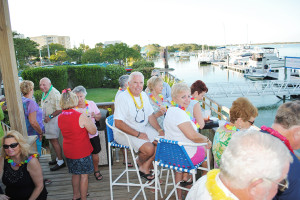 The second day began with a hot breakfast of scrambled eggs with bits of prime rib mixed in, fresh fruit, and assorted breakfast pastries prepared by the Cruise Leaders. Bloody Marys were also available to wake up the sleepy heads. The afternoon was free for members to go to the beach, swim in the heated pools, shop, play games, dink ride, or ride the trolley to lunch. At 4:30, happy hour began on the marina deck with Mai Tai's provided by the cruise leaders, followed by a catered private dinner buffet poolside, overlooking the Gulf of Mexico. Joining the group by car for the dinner were members Bob Martin, Jeanie Douglass, Joan Prosser, Joan Raymond, Bruce & Sue Longman, Mary & John Brehm, Chuck Pollack & Sue Herzog, and Larry & Ana Maria Mitchell. Everyone enjoyed a great meal in a wonderful setting.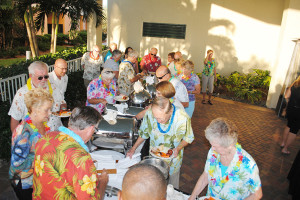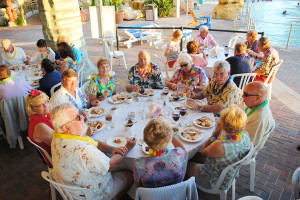 The third day began with another breakfast of French Texas Toast, fresh fruit and pastries. Then it was once again a choice of activities and a lunch on your own. At 4:30, members gathered at Hal & Dee Moss's boat, "Hardee II" for a new boat name christening. Cups of champagne were provided by Hal & Dee to toast the removal of the old name and the unveiling of the new name. All who attended enjoyed the ceremony and wished them good luck on their new boat. Happy hour on the marina deck took place before "dinner on your own".
The next morning boaters departed with fond memories and full stomachs following this fun-filled cruise. Thanks go to Dave O'Connor, dock master, and his great crew. And special thanks go to Gary & Kathy Taake for putting on a wonderful cruise. Their planning and special touches made this a cruise to remember.
The Cape Coral Cruise Club is open to new members who own a boat with overnight accommodations. For membership information please contact Larry Mitchell at 239-560-2823. View a short picture video of Club activities and review additional Club information on its website, www.c-c-c-c.org.
by Lee Jetton