Award-winning Doc Ford murder-mystery series novelist White has already signed on for fishing the tournament, in which 100 percent of the entry fee will be distributed as tournament awards.
"I'm really looking forward to the tournament," said White, a former area fishing guide. "It's for such a great cause, and a good excuse to get out and meet people and find out if I can still tie a Bimini."
Mark your calendars for tournament day May 4, 2013.
Doc Ford's, with locations on both Sanibel Island and Fort Myers Beach, sponsors the tournament to support the J. N. "Ding" Darling National Wildlife Refuge through the "Ding' Darling Wildlife Society-Friends of the Refuge (DDWS).
"This is so exciting!" said Marty Harrity, Doc Ford's co-owner. "There's not another tarpon tournament like it in the area. We're expecting fishermen from all over Florida."
"Doc Ford's has been a faithful supporter of our efforts at "Ding" Darling, helping greatly to bolster refuge programs and research to balance federal budget shortfalls," said Birgie Vertesch, DDWS executive director. "We're so grateful to them for this huge effort in our behalf."
Learn more about the tournament here: www.dingdarlingtarpontourney.org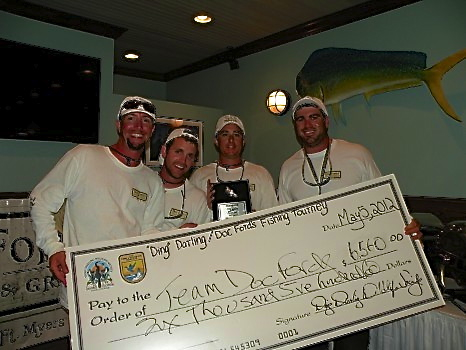 Winning Team – 2012
Team Doc Ford's
Nick Fischer, Joe Harrity, Dennis Florie and John Landry