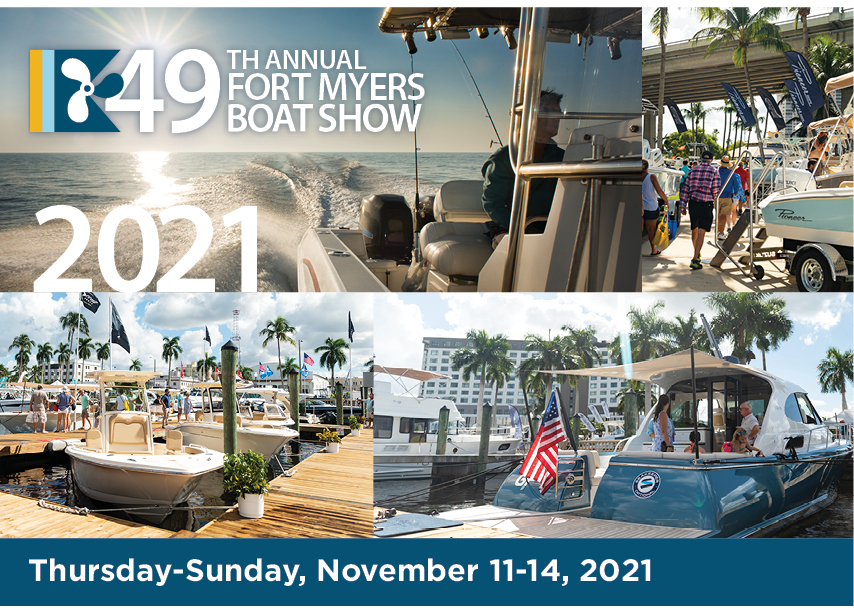 The 49th Annual Fort Myers Boat Show once again takes over the historic downtown riverfront, November 11-14, 2021.
From Centennial Park to the Fort Myers City Yacht Basin, boats of all styles and sizes will be displayed on land, indoors and in the water. Hundreds of accessory exhibits feature everything from engines and electronics to boat lifts, boating services, fishing gear, clothing and just about anything else you might need on the water.
This is the largest display of boats, boating products, and services on Florida's west coast, featuring over 600 boats on land and in water, representing over 130 manufacturers. It is also one of the most beautiful settings for a show in the country. Set on the Caloosahatchee River, exhibits wind along the river, through Centennial Park and Edwards Drive, through the newly renovated Caloosa Sound Convention Center and to the City Yacht Basin. Whether you are in the market for a boat, looking to repower or upgrade your current boat, or just want to see what's new, you will find what you are looking for at this show.
The Caloosa Sound (formerly Harborside) Convention Center is full of boating products and marine accessories of all types and styles. Adjoining the newly renovated Convention Center is the beautiful Luminary Hotel. You can make a weekend of your visit, stay right on the show grounds at the new Luminary Hotel, enjoy a great show and the good times that the River District offers.
Admission is $16 for adults and children 15 and younger are free with a paid adult admission. Visitors are encouraged to skip the line and buy tickets online.
Entrance:
Bay Street & Heitman St (Next to the Post Office)
NEW Hours:
Thursday, November 11: 10am-6pm
Friday, November 12: 10am-6pm
Saturday, November 13: 10am-6pm
Sunday, November 14: 10am-5pm