Spring brings great weather and warmer water temperatures, and that makes it the perfect time to explore Southwest Florida by paddle craft. Whether you opt for a kayak, canoe, or stand-up paddleboard (SUP), you'll get to enjoy a unique experience that comes from seeing our waterways from water level. Paddling brings you closer to nature and offers access to spots where motorized boats and jet skis may not be able to reach. Grab a paddle and let's go!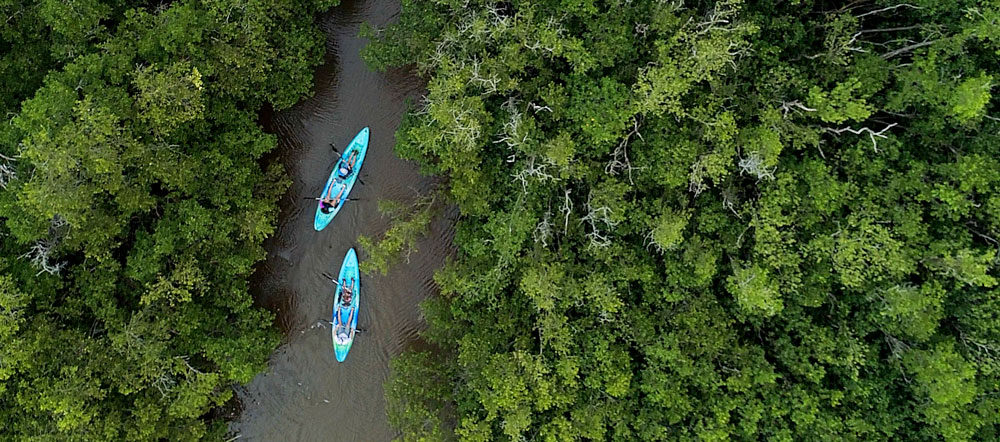 PINELLAS COUNTY
---
Fort DeSoto is a popular paddling spot in Tampa Bay combines history (the Fort was built in 1898 after all) and the natural beauty of mangroves and sandy beaches. The park offers 7 miles of shoreline for paddles of all experience levels. The 2.25-mile marked trail loop in Mullet Key Bayou offers an easy paddle with shelter from the wind. Advanced paddlers can complete the full 10-mile loop around the park or venture across a major shipping channel to explore Egmont Key and its historic ruins on land and in the Gulf on its west side.
The Anclote River attracts all kinds of paddlers to the Tampa area. Both beginners and experts appreciate the river's gentle waters and the many bayous that surround Tarpon Springs. The Craig Park launch in Spring Bayou gives paddlers easy access to the small islands that dot the open waters of mouth of the river to the west, or upriver where the commercial fishing industry is on full display via the historic sponge docks. No matter which route you take, the Anclote River is a great spot to spend a day.
Check out the Pinellas County Blueways Guide for all kinds of trail information on paddling opportunities from Anclote Key all the way down to Honeymoon Island.
MANATEE COUNTY
---
With roughly 75 miles of trails, the blueways of Manatee County offer something for paddlers of all skill levels. The trail system is divided into seven sections that extend from south Tampa Bay to Longboat Key. The trails include creeks, rivers, and bays as well as two forms of coastal wetlands: tidal marshes and mangrove forests. Paddlers might even see artifacts from the Tocobaga Indians, the area's early inhabitants, such as bits of broken pottery and tools. If you're lucky enough to spot such historical artifacts, please remember that disturbing or collecting them is prohibited by state and federal laws.
SARASOTA COUNTY
---
Lido Key is a great area for families and novice paddlers thanks to its sparkling waters, sandy shorelines, saltwater lagoons, and the mangrove tunnels of Ted Sperling Park. You'll find plenty of nice spots to stop and rest along the way, and many paddlers see dolphin and manatee enjoying the trail as well. Be sure to check out Otter Key, a 30-acre island containing an undeveloped county park just east of Lido Key.
The Myakka River is Florida's first designated "wild and scenic river" and offers an off-the-beaten-path paddling adventure. The 60-ish mile long river puts paddlers in the middle of nature. Over 100 bird species can be found along the Myakka, earning this route a reputation as a birdwatcher's paradise . One new launch point you may not find on most maps just yet is Senator Bob Johnson's Landing. This Venice park features an ADA compliant canoe and kayak launch to ensure all paddlers can access and enjoy the Myakka River. Plus, the washdown station makes cleanup a breeze.
A number of paddle trails dot the coast from Sarasota to Englewood, so check out the county's Blueways Paddling Guide for a full listing of launch points and trail maps.
LEE COUNTY
---
The Great Calusa Blueway is a 190-mile marked trail meanders through the Gulf coastal waters and inland tributaries. Actually consisting of a network of trails, the Calusa Blueway is made up of three sections that include Pine Island Sound, Estero Bay, and the Caloosahatchee River. The Calusa Blueway attracts everyone from first timers to advanced paddlers because of its diverse scenery and abundant marine life, fishing, and birding. Paddlers can take their pick of day trips through winding rivers to picturesque lagoons or beaches and even bucket list destinations like Captiva and Sanibel Island, including the renowned J.N. "Ding" Darling National Wildlife Refuge. With so much to explore, you may want to download the free iPhone app and even order a trail guide map to keep in your dry bag.

Whether you're seeking an epic adventure, an eco-friendly exploration, or just a quiet day on the water, Southwest Florida is a paddler's paradise. Enjoy our vast network of pristine bays, rivers and estuaries responsibly and safely — we'll see you on the water!
Stay Up to Date
Be sure to sign up for our newsletter and remember to share your boating photos with us by tagging @goboatingflorida for a chance to be featured on our Facebook and Instagram pages.