Between the engines, helm displays, trolling motors, live wells, sound systems, lights, and other gadgets, marine batteries are the unsung heroes of boating. Your boat's batteries serve two primary functions: starting engines and running accessories. Some batteries are built for one function while others can do both, so it's important to know your marine battery basics. 
Boat Batteries 101
Because modern boats have increasingly complex power demands, it's important to know your vessel's needs. According to Mike Gursky, District Sale Manager for Taylor & Crowe Battery, one battery type typically won't cut it. He breaks down the marine battery types like this: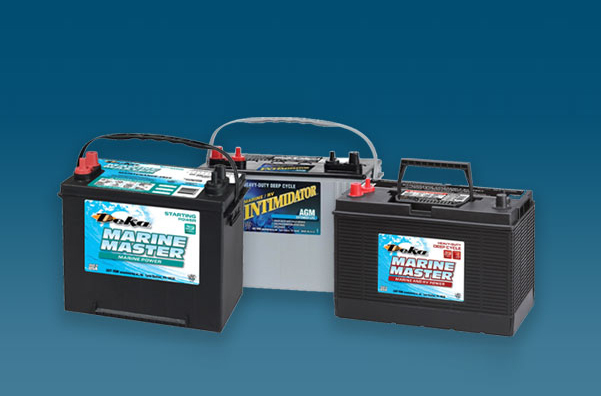 STARTING
These batteries are used for starting engines only. They're designed to deliver a quick burst of power and are generally maintenance-free.
DEEP CYCLE
Unlike starting batteries, deep cycle batteries are designed to provide reliable power over longer periods of time. They're used for accessories like trolling motors, electronics, and anything that relies solely on battery power.
DUAL-PURPOSE
These batteries can be used for both starting and cycling, making them a good solution for small powerboats that use a single battery or sailboats that must use two identical batteries interchangeably.
Whether you're a first-time boat buyer or advanced boater, Mike's advice is simple:
"Make sure you specify the correct batteries for the way you are going to use your boat. Starting batteries shouldn't be used in cycling applications. Deep cycle batteries should always be used when the battery is solely powering the vessel and can be used in starting situations as long as the required engine starting cold cranking amps are being met. Dual-purpose batteries can be used in both cycling and starting applications."

Battery Technology
Once you determine the type of batteries your boat requires, you'll need to choose the chemical technology that fits your needs. Taylor & Crowe wholesales Deka batteries from East Penn Manufacturing, which offers different lead-based options for deep cycle and dual-purpose batteries.
Deep Cycle Batteries:
• Good — Flooded
• Better — AGM (Absorbent Glass-Mat)
• Best — Gel
Dual-Purpose Batteries:
• Good — Flooded
• Better — AGM (Absorbent Glass-Mat)
While these options differ in capacity, lifespan and budget, Mike highly recommends AGM and Gel batteries because they are totally sealed and maintenance-free. And what boater doesn't love the sound of that?! If you need help navigating the marine battery options, reach out to Mike or contact one of the many local marine experts in our boater's directory.
Stay in the Know
Be sure to subscribe to our monthly newsletter and follow us on Facebook and Instagram for the latest boating tips and news. See you on the water!
---
ABOUT THE EXPERT
East Penn Manufacturing Company / Taylor & Crowe Battery
East Penn has been producing high quality batteries and battery accessories for the automotive, commercial, marine, industrial, stationary, and specialty markets since 1946. The company is a member of the Marine Industries Association of SWFL and Tampa Bay.
eastpennmanufacturing.com | 1-239-437-2903 | 7971 Supply Drive, Fort Myers, FL