Greeting 'fishing and boating' friends! The waters of SW Florida and other 'Ports of Calls' are full of new boaters and clients looking to escape the restrictions that the COVID-19 Pandemic and scare has created. It appears to be the best escape on the planet and many are re-kindling the flames by enjoying their boats and fishing equipment of yesteryear, while others are just getting into the recreational aspects of fishing and boating. Labor Day Weekend was a testament to the number of people boating, fishing and enjoying the waters. Boats were out in huge numbers to support the Presidential Candidates with their flags waving and music playing.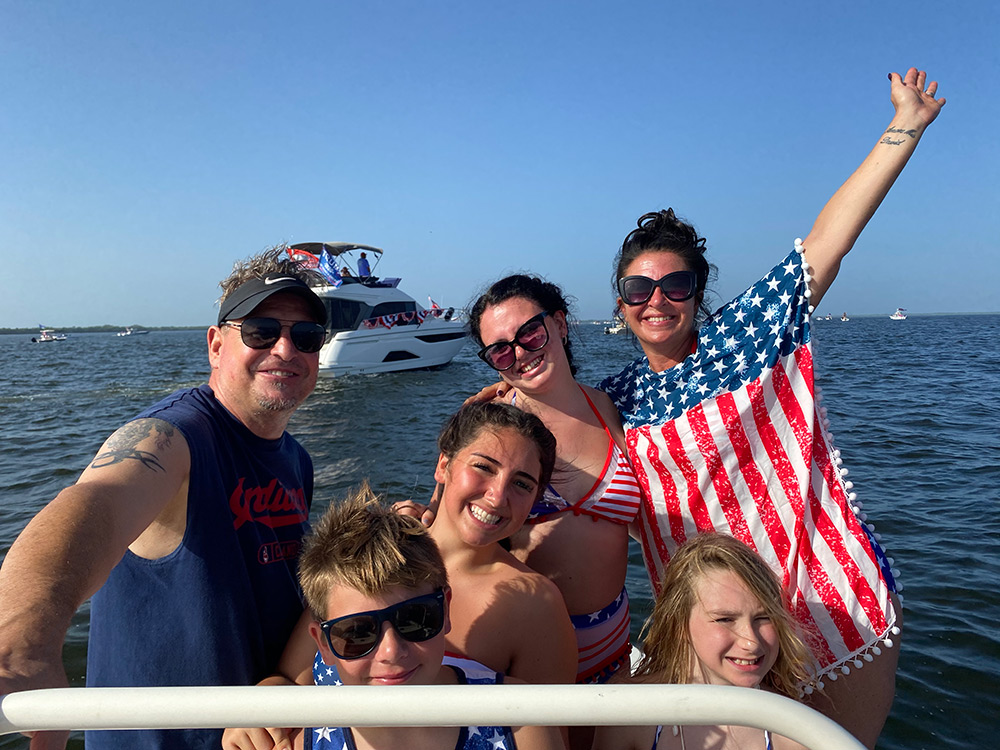 Clients from the east coast of Florida, Ohio and other venues joined me for the boat parades as well as fishing. Pictured is a family of six from Cleveland, Ohio celebrating an exciting morning by participating in a 'Presidential Political' Parade. I swear the number of boats participating were in the thousands! They finished up the event by enjoying time on the beach of Cayo Costa.
Since my last report, 1st Mate Vicki and I took another three (3) day trip to 'Keys' (with our boat in tow) to enjoy catching Dolphin and numerous other species (Vicki is pictured with some of the catch from the waters just off of Key West). The only caveat to going is that we have our Chocolate Lab ('Moby Dick') to consider and he requires being 'boarded'. That makes him sad and costs me money (making me sadder). However, I promised him he gets to go on some trips to the 'Keys' next summer, as he loves to fish! He is pictured here giving me the 'poor me' look as I explained he had to wait until next year.
Recently, I took my good client Mark Briggs, from Port Charlotte and his friends, Scott, John and Richard out to catch Redfish. They are each pictured with one of their many catches. The fishing is good both inshore and offshore. Early morning fishing is better as the heat index can be almost unbearable for some, not to mention the possibility of afternoon late summer storms.
I am looking forward for fishing to continue to be good and even improve as the waters begin to cool as we approach fall. This is Captain Terry Fisher of Fish Face Charters inviting everyone to experience 'Captain Terry's 'Wonderful World of Fishing'! I hope you will contact me with any questions or charter requests at 239-357-6829 or email me at fishfacecharters@yahoo.com. Check out my website at www.fishfacecharters.com for more information. I am available as 'Captain for Hire' (by the hour) on your vessel for safety, navigation, fishing locations and techniques that will make your every trip a success.
By Captain Terry