One of the best perks of having a trailerable boat in Southwest Florida is being able to choose your own adventure. You can tow your boat to local launches for direct access to your favorite fishing spots, embark on a road trip along the Gulf Coast, or even haul it over to Route 1 and hit the Florida Keys. Being a responsible trailer boater goes beyond launching and loading, so check out our expert tips for making the journey safer—and less stressful—for everyone.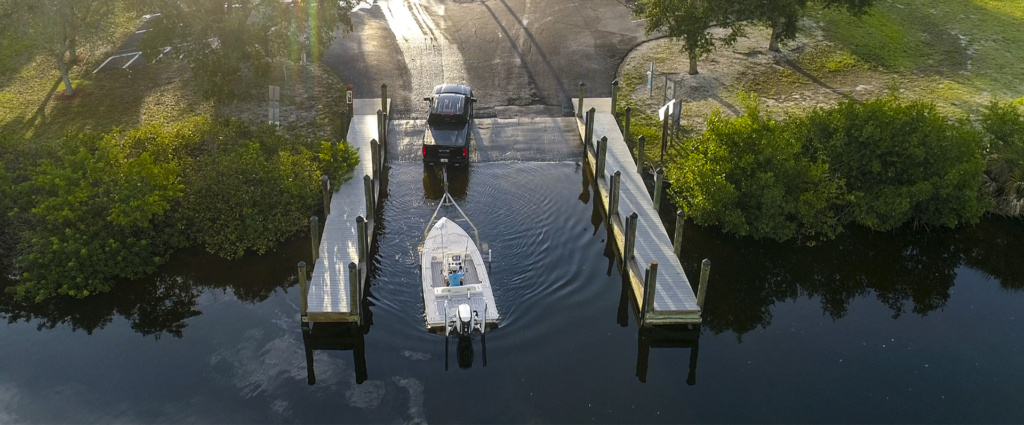 We asked a couple local experts who know a thing or two about moving boats, Brad Kenyon from Boat and Motor Superstores and Barry Marshall from Viage Group.
A Match Made in Heaven
So, what should you look for when buying or replacing a trailer? It's all about fit. According to the pros, you shouldn't underestimate the importance of making sure your bunks are mated and matched to the bottom of your boat.
"It costs a little more, but is well worth the extra expense," says Marshall. "The boat will fit on the trailer so much better."
Kenyon adds that you should also make sure your boat is within the trailer's specs and your trailer is equipped with the proper lights and brakes according to Florida law. (For example, brakes are required on trailers weighing 3,000 lbs. or more).
Remember the Basics
Marshall says the most common mistake he sees is boaters not securing the latch on the hitch ball and forgetting to insert the pin that keeps the trailer from popping off the ball. Skipping this most basic step can put you, your boat and others around you in serious danger.
From trailer lights to tie-downs, it's important to know the basics before you hit the road. If you're a new boat owner or simply need a refresher, be sure to check out this step-by-step guide from Discover Boating.
Practice, Practice, Practice
Marshall also has a great tip for anyone new to launching, a high-pressure situation that's stressful for rookies that have not backed a trailer down a ramp before. Go to the ramp at dusk and practice. You can use our public boat ramp map for info like number of lanes, hours of operation, and other helpful details.
Share the Road
Kenyon reminds everyone that once you and your boat are on the road, other drivers just aren't worried about your precious cargo. "Realize others around you have no respect for you trailing a boat. Allow plenty of room," he warns.
If you have questions about trailers and towing, you can always reach out to one of our many local marine experts who can point you in the right direction.
Whether you're a creature of habit with a favorite route or boat-towing nomad, you can always stay up to date by subscribing to our monthly newsletter. Happy trails, we'll see you on the water!
---
ABOUT THE EXPERTS
Boat & Motor Superstores
Boat & Motor Superstores is a large volume boat and consignment dealership serving Dunedin, Tampa, Palm Harbor, St. Pete, and Clearwater. It is an authorized Avalon and Key West Boats dealer, as well as a member of the Marine Industries Association of SWFL and Tampa Bay.
boatandmotorsuperstores.com | 1-727-942-7767
Viage Group
This Beneteau, Chris Craft and Scout boat dealer serves our area with four convenient locations in Tampa, Sarasota, Fort Myers Beach and Naples. Viage Group is also a member of the Marine Industries Association of SWFL and Tampa Bay.
viagegroup.com | 1-941-444-5375 | 1-727-270-9009