By Captain Terry Fisher
This writing features some really great times and moments with clients fishing with their families as well as boating and fishing with my family. This all came about after the successful Bonita Boat Show that Vicki and I attended at the Grey Hound Race Track in early March. Exhibitors featured a diversity of marine products, including fishing seminars to wet any angler's appetite. It is also a time when Vicki and I have a few days together enjoying the industry that we represent while having the opportunity to spend one on one time with friends and clients, sharing fishing and boating experiences. I am pictured in a booth representing our company, FISH FACE CHARTERS LLC.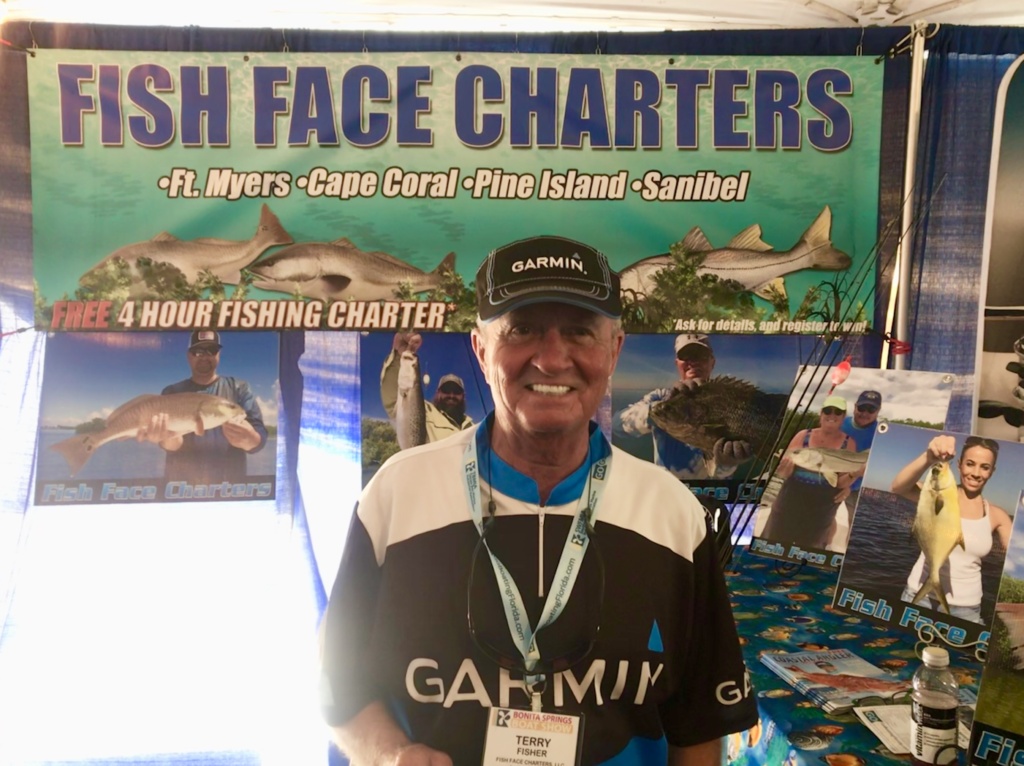 In early March, the Jeremy and Laurie Peterson family of Stillwater, Minn. joined me for their annual fishing outing with their children, DJ (13) Robbie (11) and Emma (10). This may be my favorite day on the water with such wonderful people. Lots (and I mean lots) of fish were caught during that day and some of the catches are pictured here. Jeremy is pictured with one of many shark caught by the family. Not to be outdone, Laurie is pictured with a nice Spanish Mackerel representing only one of about 30 fish she caught. The children are pictured with their Fish Face Charter Junior Angler Shirts and the new hats for the trip. Looking forward to next March's fishing extravaganza with the Petersons!
Rich and Leo Lombardi of Williamsburg, VA. Joined me for a day of chasing Triple Tail, Spanish Mackerel and Seatrout. Rich fishes many venues throughout his travels and is a great angler. Fishing started off slow with winds higher than forecasted, but before the day was done, we caught fish. It is always a pleasure to spend time with Rich, but the bonus for both Rich and I, was having grandson, Leo on board for this trip. Leo showed a lot of talent and I am hoping I get a chance to take him again. Rich is pictured with a big Seatrout and Leo with a nice Spanish Mackerel.
One of my daughters and her family, Barbara Adair, also joined me during 'Spring Break' from St. Louis, Missouri. Barbara, husband Andy and the twins, Haley and Noah are pictured together during a lunch break at Cabbage Key. We did not do a lot of fishing, but enjoyed boating and eating at a few of the many restaurants, easily reached by boat. Looking forward to them coming back next year!
Neighbor, Jack Gerhardt and his three brothers, Al, Dick and Tim joined me for a day of fishing in early April. They were a blast to be with and we caught gobs of Spanish Mackerel, Seatrout, Shark and Lady Fish. Looking forward to seeing them all again on their next visit.
This is Captain Terry Fisher of Fish Face Charters LLC wishing everyone a great Tarpon Season (which is NOW)! Check out my website at www.fishfacecharters.com. Call me at 239-357-6829 or email fishfacecharters@yahoo.com to book a charter. I am also available as 'Captain for Hire' (by the hour) on your vessel for inshore, offshore, backcountry and Tarpon fishing instructions/locations that insure catches every time.