It has been a while since I last wrote about fishing our beautiful waters due to my very busy schedule. After all, it is the month of February that kicks off the season with high demand for charters. Nonetheless, 1st Mate Vicki and I worked the Bonita Boat Show the first week of March to hook up with clients and vendors. Once again and as always, the Boat Show was a huge success for many of us vendors, with lots of people in attendance. I especially enjoy the opportunity to do some of the fishing seminars at Fishin' Franks' Fishing Village. The boat shows give me an opportunity to exchange fishing reports and stories with other guides, as well as new and old clients alike. I am pictured here with Frank at his Fishing Village.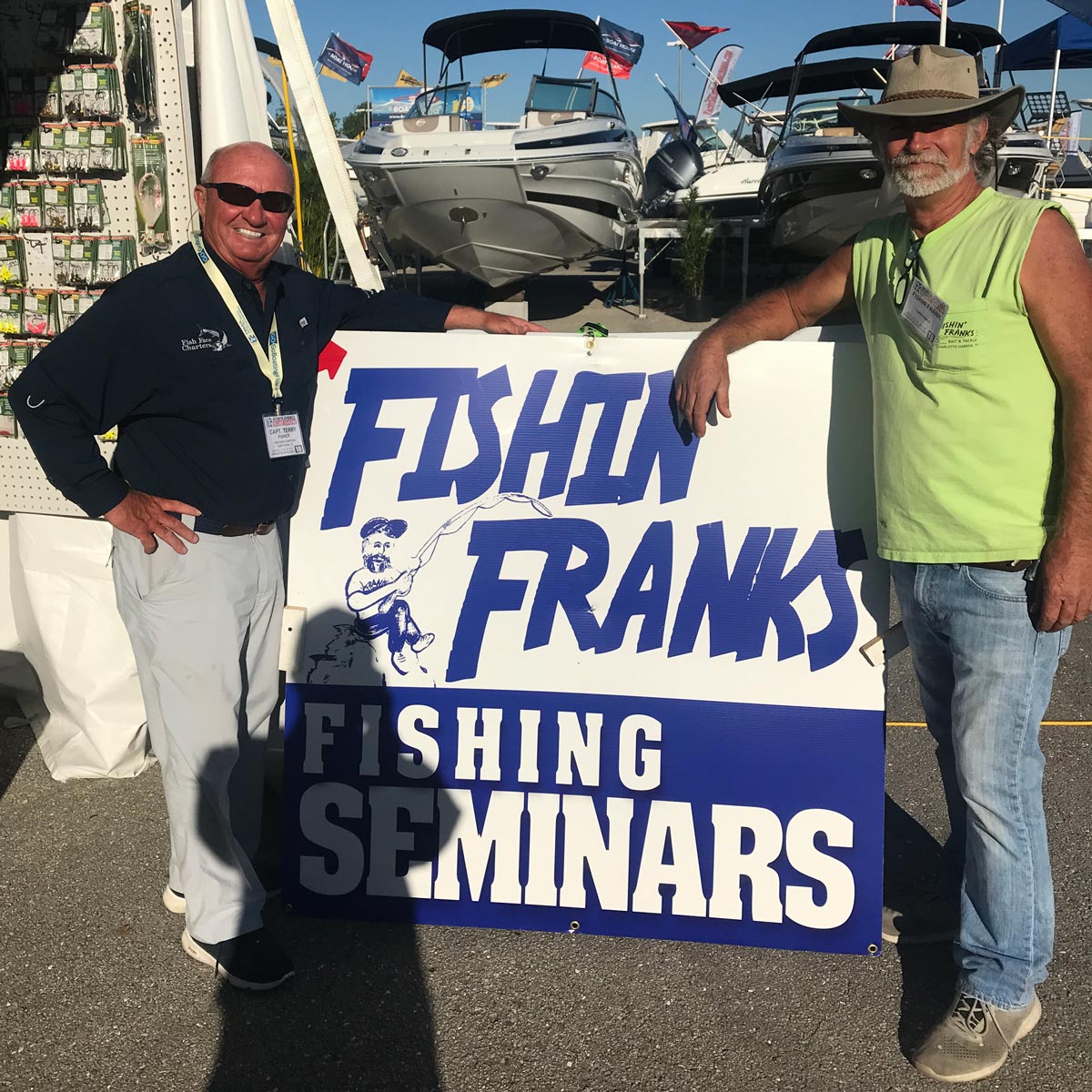 I have some catching up to due in-regards-toblow by blow fishing reports and pictures of some of my clients during March, which I will get to over the next number of weeks as well as keeping everyone up to date on more current activity. Due to winds, March was a tough month to schedule and get charter requests filled. Moreover, we had five separate cold fronts that came through making fishing a little more difficult at times. However, we did prevail with extra efforts on both my part and the clients.
I have many favorite clients, but the one that stands out to me is Dr. Thomas O'Connor of Janesville, WI. Tom and his whole family are avid fishermen and fisher-ladies who enjoy spending time together on the water. We always catch fish and enjoy a break for lunch or dinner at one of the many fine restaurants in the area we fish. This year Cabbage Key and Barnicles on N. Captiva got most of the business. Last March, Tom and his family members did five charters with me and I loved every minute. Tom is pictured here with his daughter Maureen holding a nice Seatrout she caught during the last week of March. Stay tuned for more pictures of the other O' Connor charters with the sons, grandchildren and daughter-in law. There were a lot of fish together with a variety of species caught by this angling family, including over 80 estuary sharks, Bonnet Head and Black Tip, by the Dan O'Connor family with his wife Christina and their sons, Flint, 14, and Quinn 11 (both exceptional junior anglers) of Port Washington, WI.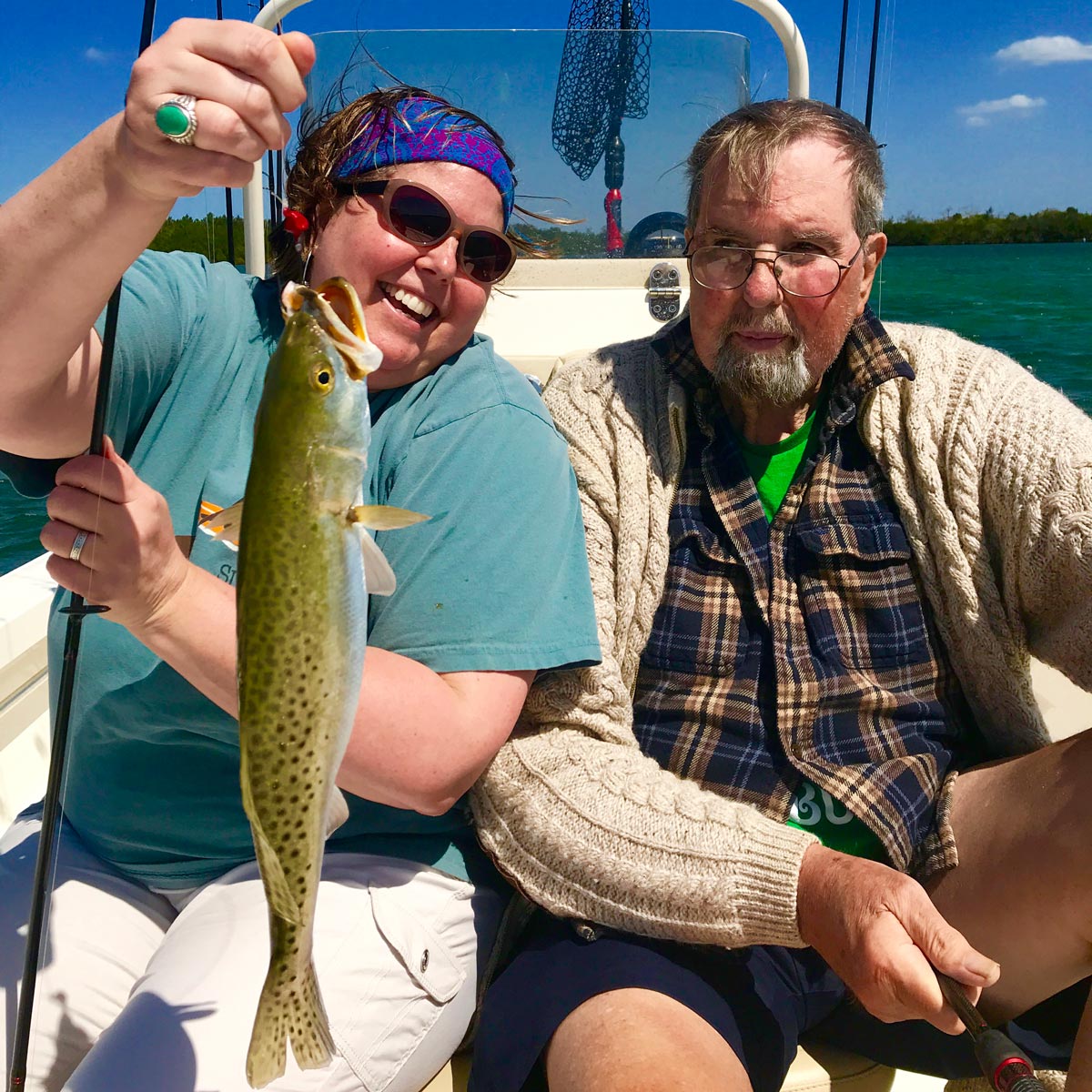 New charter clients, Nick and Claudia Visca of Cape Coral also had a great time in March catching a number of fish. Claudia was celebrating her birthday. Nick scheduled a six hour charter with a stop at Cabbage Key for lunch, but they were having so much fun, they opted to keep fishing instead of eating. Nick is pictured with a nice Spanish Mackerel and the Birthday Girl is holding one of the bigger Seatrout that she caught. They broke out the Champagne on the way back to the dock and enjoyed it over a toast with their friends, Ron and Donna. HAPPY BIRTHDAY CLAUDIA! Looking forward to doing it again.
| | |
| --- | --- |
| | |
More recently, I had the pleasure of fishing The ASHRAE Tournament with James Martin and Jason Hardman of Ft. Myers. The American Society of Heating, Refrigerating and Air Conditioning Engineers, is a global professional association seeking to advance heating, ventilation, air conditioning and refrigeration systems designs. ASHRAE has more than 56,000 members worldwide from over 132 nations. James Martin is the RP Chair and V. P. Jason is the Regional Research Promotion Chair overseeing the RP for the 14 Chapters in this region, which include Florida as well as the Caribbean and South America. ASHRAE has two large events to raise money per year (Fishing in Spring and Golf in Fall). The funds from these events are used to advance and write new codes to increase the advancement of HVAC design. Research projects increase efficiency and explore options for a more sustainable world.
Even though my team did not take first place (they got 5th), I feel like a winner getting to know these men and members of their association. Jason and James are pictured with one of many Snook caught that day. It was 26 inches. Nice job guys!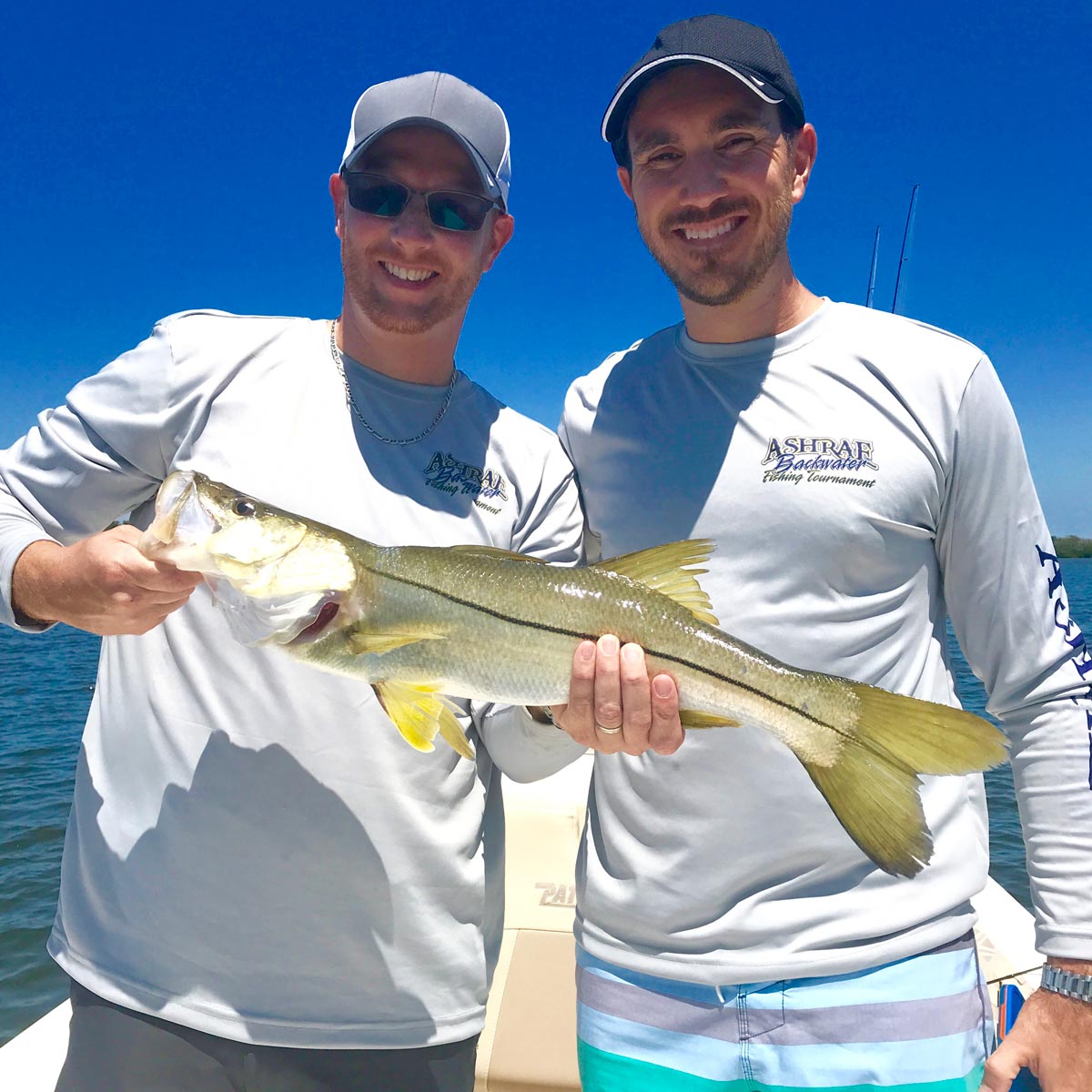 Any day on the water is a great day! As I write, the Tarpon are here in full swing. With baitfish everywhere and big shrimps available for live bait anglers, now is a good time to catch a fish of a lifetime. Work both the incoming and outgoing tides for best results. This is Captain Terry Fisher of Fish Face Charters wishing everyone safe boating and good fishing. Check out my website at www.fishfacecharters.com. Email me at [email protected]or call direct at 239-357-6829. I am also available as 'Captain for Hire' (by the hour) on your vessel for safety, navigational, fishing techniques and locations that insure catching fish on very trip, both offshore and inshore.