We often get asked what's the best boat to buy. Some may jokingly say the best kind is the one you can enjoy without owning! But in all seriousness, we think the best kind of boat for you will depend on what you're looking to get out of it. With so many options, this can be hard for new boat buyers to navigate, so we've gathered some of the most popular boat types in SWFL to give you a head start.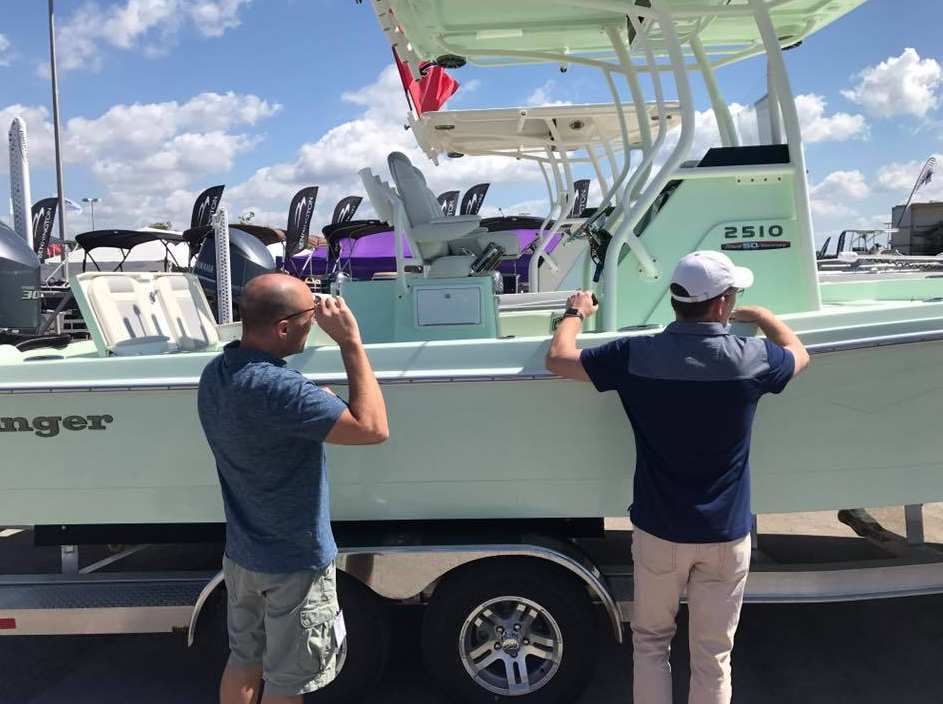 Things to consider during your search:
• How many people would you like to have on your boat?
• How deep is the water you plan on boating through?
• What is your budget?
• Where do you plan on storing it?
Keeping the answers to these questions in mind, or better yet writing them down, will be helpful as you read below and later on when you seek out a manufacturer and dealer.
Boats for General Use
While you can technically hit the water with any kind of boat, here are a few styles of boats meant for all different types of fun daytime activities. Bowriders, true to their name, have very spacious seating up towards the bow of the boat. These boats ride well, but are usually not ideal for fishing or venturing offshore. Deck boats are designed to hold a larger number of people and while they don't handle as well as high performance boats, they're great for a family trip to the beach. Pontoons have aluminum tubes that keep their large flat decks afloat and used to only be ideal for lakes or smaller bodies of water, but with newer technology some are actually keeping up with performance boats. All of these multipurpose boats we've mentioned can be great options if you are looking to do many different activities on your boat.
Boats for Watersports
Ski, wake, surf, and jet boats are the best for those who are a little more adventurous and want to spend the afternoon behind the boat. Sterndrive and inboard engines are most common for tow sports but, but depending on which watersport you're into, the engine and hull of the boat will change the kind of wake it throws. Adding a swim platform will help increase convenience and safety for your riders. Boats for watersports usually range 18-28' in length and some of these can fit around 14 people. They're commonly trailerable so you have the option to store the boat if you don't prefer to keep it at a marina or on your dock.
Boats for Fishing
The number of boat options for fishing is almost as high as the number of fish in the sea! The kind of fishing you do will play a big factor on the type of fishing boat you choose. If fishing and cruising around with family and friends both carry equal weight on your priority list, a center console is most likely the boat for you. Simply adding seat cushions for when you've got extra people on the boat will provide comfort for those who don't have a line out. Center consoles range between 15-55' in length, have outboard engines, most are trailerable and they're great for offshore fishing. If you're looking for something a little smaller to fish in shallower bodies of water, an aluminum fishing boat, bass boat, bay or flats boat may be better suited to your needs. These specialty fishing boats commonly have large flat platforms at the bow or high raised platforms at the stern for sight casting in the mangroves. This kind of fishing can be just as rewarding, if not more rewarding, than offshore fishing!
Boats for Overnight Getaways
Consider these kinds of boats your home away from home. If you are out for the day or the entire weekend you'll have everything you need in the onboard kitchen (galley), bathroom (head) and bedroom (berth). Some of these boats also have heating, air conditioning and electricity to keep you extra comfortable. Depending on the size, some will be trailerable and others will require marina storage. Due to their size, they are can handle rougher seas which allows for longer, farther trips. Typically, cuddy cabins are smaller, cabin cruisers are in the middle, and the largest are motor yacht/cruisers which commonly exceed 40' in length. Once they exceed around 100' in length, they're considered superyachts and may require a captain and crew.
Boats for Sailing
Sailboats were the main form of marine transportation until the mid-19th century, also known as the Age of Sail, and although they may not be as popular for new boaters, they're still just as fun! With lengths ranging from 7-70', sailboats may vary in size more than any other kind of boat, which means their storage options, max people capacity, and purposes also vary. Smaller vessels rely only on the wind in their sails, but anything over 18' may have motors to get things moving along when the wind isn't strong enough. Because sailing is very different from regular boating, we suggest doing a lot of research and testing out multiple kinds of sailboats before purchasing. Local clubs are a great way to learn more about the art and science of sailing, while knowing what your sailing goals are will help you narrow down your search.
Whatever Floats Your Boat
No matter what kind of activities you are looking to do on your boat, there is a Captain's chair out there with your name on it. If you're still deciding between a few different styles of boats, DiscoverBoating.com has an interactive boat selector to help you filter through your needs. Once you know what style floats your boat, check out our Boater's Directory to find trusted dealers who carry the styles and brands you are looking for. Happy boating!