(Ft. Myers Beach to Charlotte Harbor)
Hurricane Matthew is finally gone so we can all go back to doing what we love to do; fishing and boating! The water temperatures and wind conditions should allow most anyone good opportunity over the next week to fish both offshore and inshore. Naturally, the winds will mostly dictate offshore activities. Offshore bottom fishing should produce good numbers of Grouper, Snapper, Porgies, Cobia and an occasional Triple Tail. Baits of choice include, Pinfish, Threadfins, Finger Mullet, squid and shrimp. Use circle hooks when fishing for reef species. Know the species by sight or compare to a 'fish species' color chart. Know size requirements and harvest restrictions.
Inland waters should be settled and fishing should return back to normal as the week progresses. All species should be biting, especially the Redfish ('Reds'). I 'dub' October as 'Red October' when big bull 'Reds' are found in schools on the flats, around mangroves and extended shoals holding oyster clusters. Artificial presentations such as gold spoons, soft plastics, twitch and top water plugs will all work. Large jumbo shrimps and cut pinfish seem to be the natural baits of choice. Pictured here with a 26" Redfish, is Mr. Scott Allen of Cape Coral. It was just one of his many catches prior the hurricane Matthew. Redfish must be at and between 18" to 27" to harvest. One per person/per day is the limit. These fish are delicious when blackened and fried Cajun style.
Snook is another excellent fish to catch and eat. The season is open through this November 30. They will hit the same artificial presentation(s) as mentioned above. I prefer an early morning top water plug or twitch baits such as; Mirr-o-lure MR 19 in red and white. Big shrimps and cut pinfish are effective presentations, although Pilchards and Threadfins may prove better. One harvested Snook per person/per day. Slot requirement is at or between 28" to 33". To harvest; a Snook permit is required in addition to a valid fishing license. Snook are excellent for eating, either fried or baked. Clean the fish within ½ hour after it dies or the meat may have a 'muddy' taste. Pictured here is Bruce Lacombe of Waterbury, Ct. holding a nice Snook he landed while visiting his friend Scott Allen, mentioned above. Both men caught their share of Redfish and Snook! Great job guys!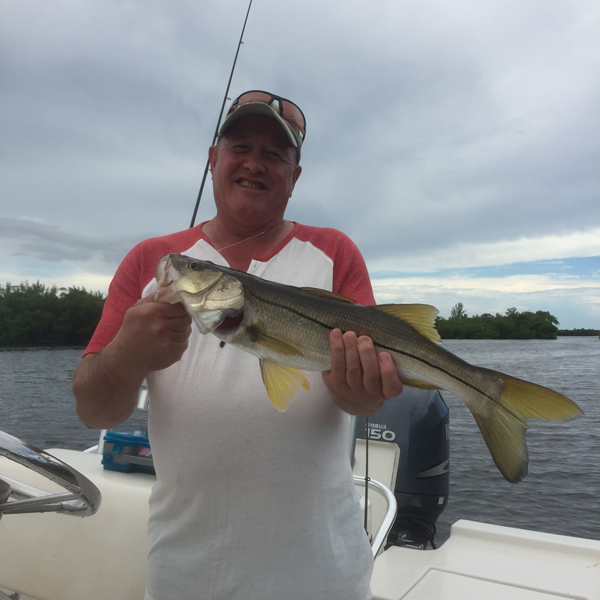 Other inshore species such as, Seatrout, Black Drum, Mangrove Snapper, Jack Crevalle, Flounder are all here for the taking. Except for Seatrout, I usually prefer to target these species with live shrimps on a weighted jig head on the bottom. I use a weighted jig head suspended under a cork, just above the seabed for the Seatrout (Mangrove Snappers require use of a circle hook if they are the targeted species).
This is Captain Terry Fisher of Fish Face Charters wishing everyone safe boating and tighter lines! Charter information may be obtained at www.fishfacecharters.com, by calling 239-357-6829 or emailing fishfacecharters@yahoo.com. I am available on your vessel as 'Captain for Hire' by the hour to teach, assist with navigation, fishing techniques and locations to insure your every outing is a successful outing. Pick up a copy of Coastal Angler Magazine for more tips on where, how and when to catch fish.