(Ft. Myers Beach to Charlotte Harbor)
Last week provided great weather with light winds. Tides were good and bait available. The full moon phase should continue to provide great opportunity to catch fish throughout the remainder of the week.
Offshore: legal grouper fishing is slow for those that do not go out to deeper waters (70ft. to 80ft.). Otherwise, Lane Snapper, grunts, Spanish Mackerel and an occasional Cobia will make up most of the bounty. Find the above species on artificial reefs, wrecks and rubble bottom using squid, shrimps, sardines or finger mullet. Use big Pinfish for grouper.
Inshore: good for all species. Seatrouts, Snook, Redfish and Mangrove Snapper will make up most of the catch. Pictured here Dan Kubal of Newtown, Iowa holding one of his Redfish catches on a recent charter. His friend, Laurie Hardin proved to be equally good at angling when she landed the 26" Redfish she is holding.
Last week, Bobby Archer (Archer Airboat Tours) and I had the opportunity to check out new spots for Redfish, Black Drum, Mangrove Snapper, Sheepshead and Snook. We caught at least one of each. Bobby caught to bulk of them and is holding a 25" Redfish caught on a shrimp. He may be reached by calling 239-633-6645. His website is www.archerairboattours.com. If one has never been on an airboat, it should be on your 'bucket list'.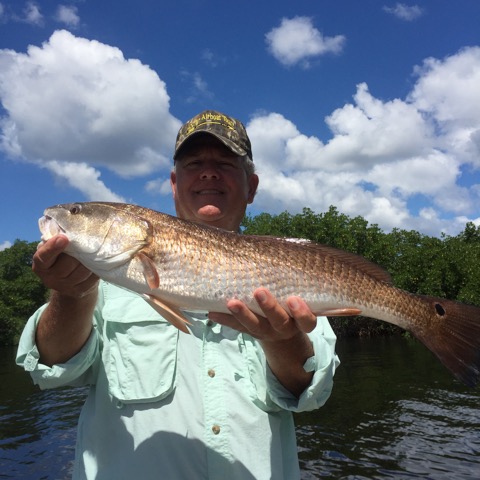 This is Captain Terry Fisher wishing everyone safe boating and 'tighter lines'! I am available as 'Captain for Hire' on your vessel by the hour to assist with safety, navigation, fishing locations and techniques.
Charter information may be obtained on my website at www.fishfacecharters.com or email me at fishfacecharters@yahoo.com. I am easily reached via phone at 239-357-6829 for immediate response. Check out more fishing tips and articles in this month's issue of Coastal Angler Magazine, located at Bass Pro Shop, marine stores and other major retailer outlets.