Fishing has been good whether one is 'fishing the flats', 'working the canals' or 'fishing the back areas' around creek mouths, oyster bars and mangroves.
Pictured here is Dan Wellacher of Cape Coral holding one of many Seatrout he caught earlier in the month. Not to be outdone, his friend, John Kellerstrass of Tulsa, Oklahoma almost matches Dan's with a similar size fish. These fish were caught on the grass flats. These boys caught lots of fish that day and we had a great time on the beautiful waters around Cabbage Key.
Dave Turner of the Branson, Missouri area is an experience fisherman and proved it when he landed the 30" Snook he is pictured with. This fish was caught on light tackle under a canal dock while 'free-lining' a threadfin on a circle hook. This fish, along with several others, was caught around the Punta Rassa area. Nice job Dave!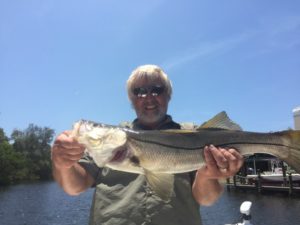 The back areas (creek mouths, oyster bars, and mangroves) produced Snook and Redfish as well. Eric Smith of Ft. Wayne, Indiana holds a nice Snook he caught on a shrimp under a cork around oyster-infested mangroves, with good current from a creek opening. Eric is very accurate when 'spin-casting' to a target and got rewarded on this particular placement! His father Martin Smith, of Cape Coral (formerly Ft. Wayne) is holding a Redfish that he recently caught using the same method. Martin has been featured in several of my reports. The only task that I have left to do for Eric is to get him a Tarpon!
Full moon on the horizon, good tides and lots of baits to choose from should prove the upcoming week to be a good time to go fishing. The water is starting to clear up around Sanibel and other locations, south of the power lines. I am hopeful that fishing will continue to improve in those areas. I am no longer as concerned with fishing around the mouth of the Caloosahatche River.
Until next report, this is Captain Terry Fisher of Fish Face Charters wishing everyone tighter lines! Charter information may be obtained by calling me direct at 239-357-6829; by emailing me at fishfacecharters@yahoo.com or go to www.fishfacecharters.com. I am also available as Captain for Hire by the hour on your vessel for navigation, fishing techniques and locations. Check out other fishing articles in Coastal Angler Magazine.