(Ft. Myers Beach to Charlotte Harbor) I want to thank everyone who attended the Bonita Boat Show last weekend. It was a great show with lots of vendors and opportunities to learn about boating and fishing the waters of Lee and Collier Counties. The fishing seminars were a great success and my 1st Mate, Vicki and I enjoyed the opportunity to welcome all new 'charter' clients 'on board'!
The full moon cycle last week help to produce some great catches. The warmer weather, moderate winds and decent tides afforded opportunities for clients and friends to take advantage of the recently opened Snook Season. Pictured here is one of my fishing friends, Mr. Steve Morrison of Cape Coral holding a nice Snook caught while 'free-lining' a Threadfin around the creeks of Iona Shores. This 24″ beauty was a little short for harvesting, but provided plenty of action on light tackle.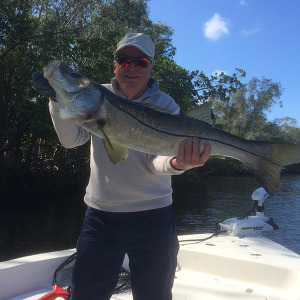 A few days later, Mr. Kevin Barrett of Crivitz, Wisconsin, landed his 'Snook of a lifetime', while 'free-lining' a large Threadfin close to the mouth of a creek in the same area. He is pictured here proudly displaying his 'trophy' (38 inches/18 lbs.) before returning to the water. Also, pictured, is Kevin's friend Connie Chamber of Crivitz, holding one of many large Jack Crevalle she caught, using the same bait and technique as mentioned above. Unfortunately, Connie lost a 'slot' Snook (28″-33″) due to the Captain's instructions during the landing! Sorry Connie; hopefully I will make amends on next year!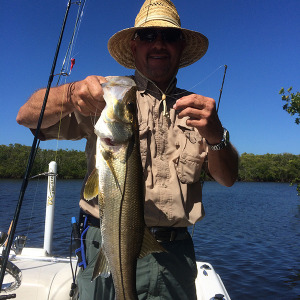 Finally, I had the opportunity to finish last week's segment with a young 'junior' angler, ('1st Mate for the Day), Mr. Zach Hager (10yrs old) from Otsego, Minn. shown here holding one of many Seatrout he caught during a charter with his 'Great' Uncle Don Redman of Medford, Minnesota; his father Marlin, Uncle Mark and cousin Tracy Hager (16), both of Ramsey, MN.. Zach and Tracy put on a fine display of what we may expect from the younger anglers of tomorrow by 'out' fishing everyone on the vessel (with maybe the exception of 'Great Uncle' Don!) Great job guys!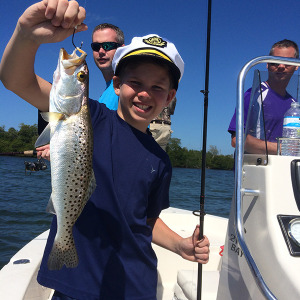 In closing, the bait fishes are back, the Spanish Mackerel's are back, the Seatrout bite is better, the SNOOK BITE IS REALLY GOOD, the tides are stronger and even though we are coming into the 'mid-moon' phase, the fishing should be good. Until next week, this is Captain Terry Fisher of Fish Face Charters, wishing everyone; 'tighter lines'! Contact me at 239-357-6829 or email me at fishfacecharters@yahoo.com for charter bookings or questions. Check out our website: www.fishfacecharters.com for all information pertaining to charters, more articles and fishing tips.