(Ft. Myers Beach to Charlotte Harbor) Prior to, during and after the recent Ft. Myers Boat Show the fishing was and has been fantastic on both incoming and outgoing tides. The 'white' bait has been around the bridges and cast netters have been active catching all of the bait they need on one cast. These baits have provided premium Snook action on both incoming and outgoing tides. (especially outgoing). Pictured here is Mr. Doug Frasier of Minnesota holding one of many Snook's he caught on 'white' bait. Over 20 Snook was landed during an outgoing tide on circle hooks. It was a first for Doug and he adjusted very well. Good job Doug!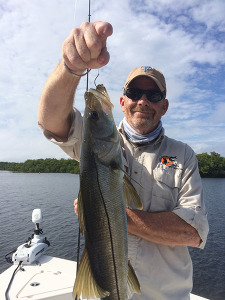 Shrimps and Pinfish work for those seeking out Seatrout, Spanish Mackerels, Ladyfish and Redfish. Pictured with Redfish are Dr. Ulrich Jaeger and his brother-in-law, Jean-Marie Schmitz, both of Luxembourg. Both fish were caught on large live shrimp on a jig head on the bottom. These two anglers proved their ability time and time again landing over 15 Redfish and a number of small Seatrout. They had an awesome day!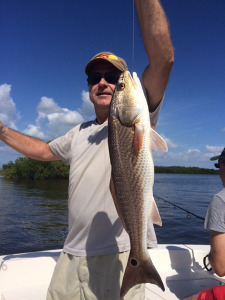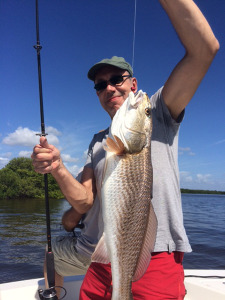 Cold fronts are pushing down from the north and only time will tell how much longer we will be able to cast nets for the bait fishes. Additionally, if the weather deteriorates and the water temperatures get low too quick, the fish will begin to move to other spots. However, we should still have some good fishing throughout the next week or so on the back side of the recent front. My recommendation is to fish later in the day and give the flats and other areas time to warm up. The fishing will still be predicated on the tides and they will cooperate with later departures for the fishing grounds over the next week or so.
This is Captain Terry Fisher of Fish Face Charters thanking all 'fishing family and friends' that stopped by our both, in the convention center at the Ft. Myers Boat Show last week or attended one of my seminars. Vicki and I enjoyed seeing all of you again. Charter information may be obtain on line at www.fishfacecharters.com. Email me at fishfacecharters@yahoo.com or call me at 239-357-6829 for immediate response.