(Ft. Myers Beach to Charlotte Harbor) October is 'Redfish Month'. Those anglers seeking their dream of hooking, fighting and landing a big Redfish should make arrangements to target this species now; especially with a 'full moon on the horizon'! Notwithstanding that we are still a week away, both of the daily high tide cycles should provide plenty of water to seek out the fish in a number of areas around Punta Rassa Bay, Buck Key as well as other areas on the immediate east side of Sanibel, Captiva and North Captiva Island locations. Areas of Pineland, Matlacha and Two Pines will have lower water levels than I desire, making them less productive for many anglers.
There are plenty of bait options, 'white' baits off virtually every sandbar as well as big Threadfin's off the beaches. Big shrimps and cut Pinfish are both good options. Recently, I had the pleasure of taking Frank Petrick and his son Jonah, of Lehigh Acres, Florida on a charter. Pictured here is Mr. Frank holding a beautiful Redfish he caught on a cut Pinfish under a mangrove. His son Jonah proved his angling abilities as well by catching a variety of fish, including a large Snook.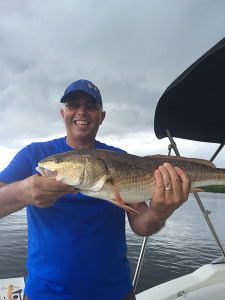 On a subsequent charter, I had the pleasure to fish with Mr. Tom Ryle, his wife Shirley and son Wes of Covington, Kentucky. Tom and Shirley now spend considerable time on Sanibel enjoying our beautiful weather. Within minutes of making a shrimp presentation along an oyster laden spoil island, Shirley landed the 29 inch Redfish pictured here. Unfortunately, it was over the maximum 'slot' size of 27″.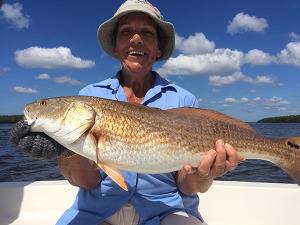 Nonetheless, Tom caught a 24 inch Red for dinner. They all caught a variety of species that afternoon as the tides moved into the back country areas around Punta Rassa and Tropical Home Site areas. Nice job Tom and Shirley! Let's do it again!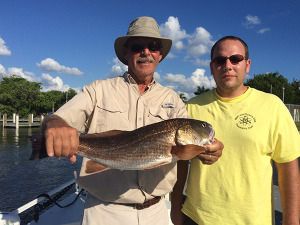 This is Captain Terry Fisher of Fish Face Charters wishing everyone 'tight lines'. Charter information may be obtained by calling me at 239-357-6829 or email me at fishfacecharters@yahoo.com. Check out my website: www.fishfacecharters.com for more articles and fishing tips.