(Ft. Myers Beach to Charlotte Harbor) Last week continued to produce good fishing despite the cool fronts that pushed through. Some days offered southern winds that provided for good opportunities to reach 'hard to get to' winter spots due to the seasonal low tides (southern winds tend to 'push' the water into Pine Island Sound, while northern winds will 'push' the water out).
Pictured here are some fishing clients that had so much fun catching fish in early February that they opted to go again last week.  Jim Poff and Shannon Poff of Salem, Ohio are displaying nice size Seatrouts they each caught on shrimps . Jayne Henderson of Kewaskum, Wisconsin is also shown with her big Seatrout. The charter hoisted a variety of fish species that morning including lots of Spanish Mackerel, Crevalle Jacks and sharks to name a few.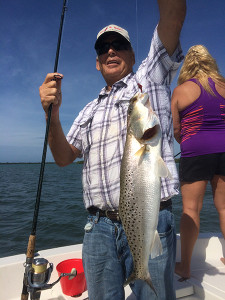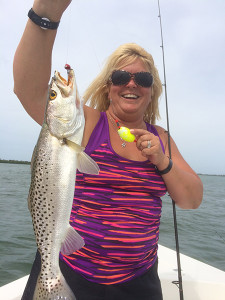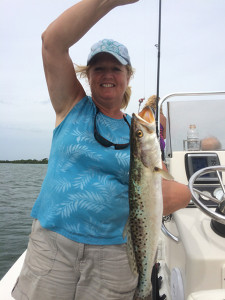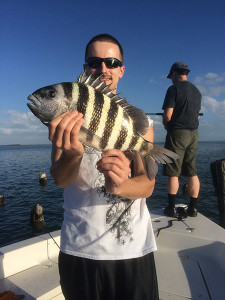 Another charter client, Mr. John Manteuffel of St. Paul, Minnesota is shown with a large Sheepshead caught on a Fiddler Crab 'deep in the pilings' in Pine Island Sound. John also hooked and successfully 'angled' a larger Sheepshead (around 18″) but was lost at the net ( I took responsibility for not getting the fish in the boat) and gave John credit for the catch.
I see nothing in next week's weather forecast to 'shut down' the bite. Water temperatures are holding with tendencies to go up. Hopefully, 'spring is in the air' as we approach the opening of Snook season. Spring brings sardines and herrings for the netting. They will be the 'baits of choice' for me, once they arrive.
More articles and charter information may be obtained at my websites; www.fishfacecharters.com or at www.captainterryfisher.com. I am easily reached by phone at 239-357-6829. Until next week, good fishing!