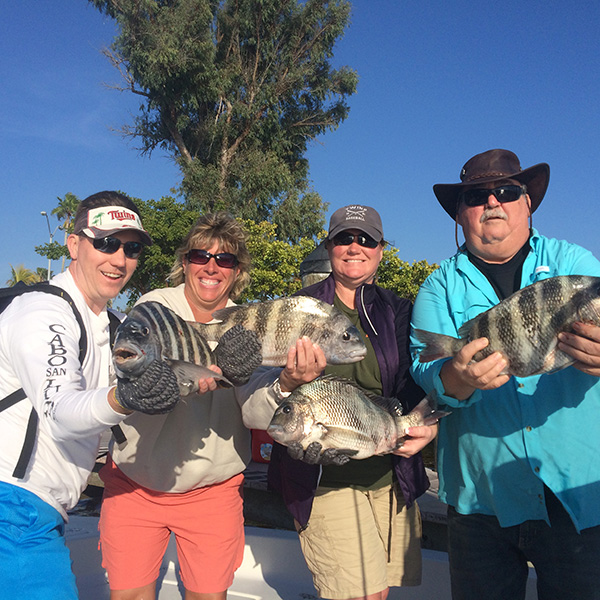 (Ft. Myers Beach to Charlotte Harbor) Even though last week brought on some brutal winds and a couple of unwanted cold fronts, fishing was a fantastic in the back country locations for those wanting to catch Sheepshead, Mangrove Snappers, Flounder and Redfish. The Redfish bite was good during a couple of days with strong southerly winds blowing in extra water providing access to remote locations. Live baits of choice for many guides and anglers have been shrimp and Pinfish. Fiddler Crabs for Sheepshead have been virtually extinct. Early morning 'top water', swim, twitch and soft plastics rounded out artificial presentations for species such as Jack Crevelle, Redfish, Snook, Mackerel and Seatrouts.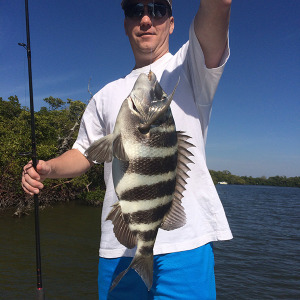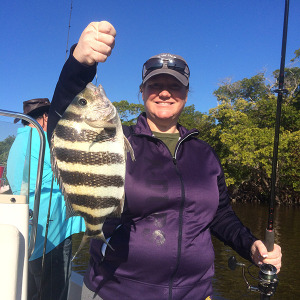 The pictures are of my favorite corporate fishing clients and friends of the Buffalo Wild Wings Organization of Buffalo, Minnesota: They are Chad Wolney, Joy Wolney and Denise Riley all from the corporate office in Buffalo, MN. They were joined by Chad's father, Jim of Sauk Rapids, MN. Each angler proudly displays their individual catches of big Sheepshead as well. Other species, such as Mangrove Snapper, Snook and Redfish were caught.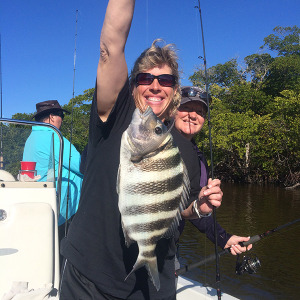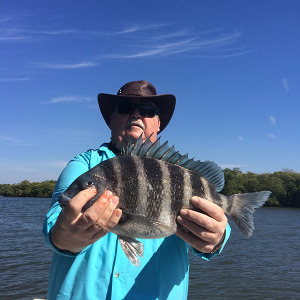 The new moon cycle is upon us this week and if the temperatures warm a bit and the winds are reasonable for access to the flats up and down Pine Island Sound, the fishing for Spanish Mackerel and Seatrout should improve. Fishing for the Sheepshead should be good anytime during moving water, as they are the go to, tasty, winter species that test anglers abilities to hook!
This is Captain Terry Fisher of Fish Face Charters wishing everyone safe boating and tight lines! Charter information may be obtained by calling me direct at 239-357-6829 or emailing to fishfacecharters@yahoo.com. More charter specifics, information and articles will be found on my website at www.fishfacecharters.com