(Ft. Myers Beach to Charlotte Harbor) The Ft. Myers boat show was a huge success with lots of people interested in many aspects of the Marine Industry including boating and fishing. I enjoyed sharing fishing techniques and offering suggestions during my seminars on how to locate and catch Redfish, Snook and Seatrout on the 'flats' and in the 'back waters' of the bays. Since then, I have been extremely busy with requests from clients on how to navigate and fish the waters in the Ft. Myers, Cape Coral, Pine Island, Charlotte Harbor areas, 'on board' their vessels.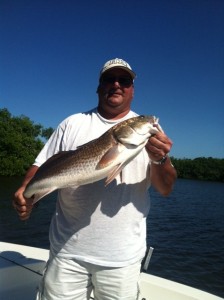 Additionally, I have enjoyed taking new clients fishing on my vessel. Pictured here is Mr. Frank Miller of Floren, New Jersey with his 29" Redfish caught early last week on a Pilchard in the 'back-country' of Pine Island Sound. Unfortunately, the winds and recent 'cold' fronts have made it a little more difficult but the fish have still been fairly active and the next week or so should be good with the approach of a 'new moon'.
In closing, I will be in the Maldives (Indian Ocean) to do some diving and fishing for myself. I am looking forward to sharing those experiences in some of my next articles. Charter requests may be made via email to fishfacecharters@yahoo.com or call 239-357-6829. Also, please check out my website www.fishfacecharters.com for more information and fishing reports. This is Captain Terry Fisher praying that you had a 'Happy Thanksgiving'!