By Ken Stead, General Manager, Cape Haze Marina
So you have decided that trailering your boat is no longer how you want to get your boat out on the water and you've selected a marina with inside or outside storage, and a forklift to launch your boat. Your boat is now going to get washed down and the engine(s) flushed, a great way to help keep her in shipshape.
Here are some tips to maximize your marina experience.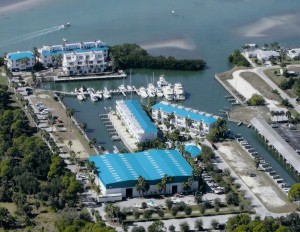 Always try to give the marina as much advance notice as possible when scheduling your boat launch. Showing up without a phone call requesting a launch can play havoc with everyone's schedule – the marina's and other boaters. An hour is typical, but each marina is different. Realize if you don't call, there could be four or five boats ahead of you for launch.
Arrive on time or let the marina know when you are running late. On busy days there can be limited room in the launch area and a couple of boats sitting for an extra hour can really clog up the basin.
Be sure the marina has a set of keys or that you keep a key in the boat. Comes in handy when we need to move it, or when you forget your set!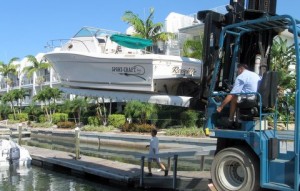 Take advantage of all of the marina's services. For instance we will fill your boat with fuel, put ice and beverages in your cooler, test run your boat, etc. to make your day on the water hassle free and enjoyable. Most marinas provide some if not all of these services and I recommend that you use them. Nobody likes to show up and find a dead battery for instance. While we will loan you a new one to get out going, your still going to be waiting while we swap it out.
Speaking of test runs, if you haven't used your boat in month's, call a week in advance and request a "back in service" check to see if your boat needs any mechanical attention before you arrive for a day on the water. This is particularly important if you didn't have it "layed up" or "summarized" before it's extended period of inactivity. We offer to run your boat on a monthly basis if you know you are not going to be using it for an extended period, this is the best way to keep all your systems operational.
With over 30 years of Marine Industry experience, Ken is always happy to answer your questions. Email him at [email protected].