Indoor or outdoor. Wet or dry. Dry stack or trailer. If you're not keeping your boat at home, you'll face some important decisions about where and how to store your vessel. There are a variety of great boat storage options here in SWFL so what should you look for in a facility? That depends on what matters most to you.



TYPES OF BOAT STORAGE
---
On-trailer storage is popular because these lots offer affordability and flexibility to come and go with autonomy. By storing your boat on its trailer, you can easily pick up your boat and haul it to different launch points. This type of storage is available at many marinas, boat yards, and commercial storage facilities in our area.
Indoor dry storage is the closest thing to keeping your boat in your own garage at home in terms of protection. Keeping your vessel in a dry stack facility requires a little advanced planning to gain access to your boat, but you completely skip the hassle out of towing and launching your boat yourself.
Marina wet slips offer convenience and freedom because your boat stays in the water and is ready to take off whenever you are. Thanks to our temperate climate, this type of storage is a luxury Southwest Florida boaters can utilize year-round. Keep in mind that floating docks typically handle minor storm surge better than fixed docks.
CHOOSING A STORAGE FACILITY
---
Once you decide on the type of storage that will work best for you, navigate the search for the right facility by focusing on specific factors that will impact you and your boat.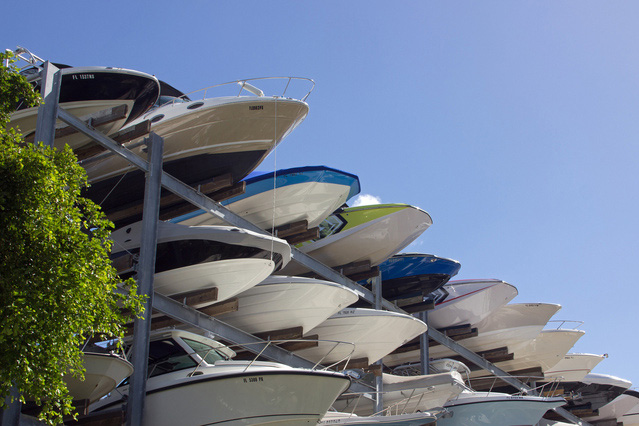 "Look at how and where you're going to use your boat," says Brandon Mayer from Sweetwater Landing Marina. "Are the facility and equipment clean and well maintained? Does the facility have onsite service? Is it staffed by friendly and knowledgeable people you'd want to leave your boat with?"
Mayer adds that boaters are drawn to Sweetwater Landing because of its indoor storage and wet slip options, new buildings, new forklifts, 150mph hurricane rating, in/out launches on request, service, gas, ice, and friendly staff.
Brian McMurphy from BigToy, which offers both indoor and outdoor on-trailer storage, suggests making sure the facility is not only clean, but safe by asking what kind of anti-theft practices are in place. The two biggest deterrents are the presence of numerous security cameras and dusk-to-dawn lighting, which is why he says BigToy features plenty of both.
When it comes to amenities, marinas and storage facilities offer all kinds of bells and whistles to attract customers. But which amenities really benefit your boat and boating lifestyle? For SWFL boaters, the ability to flush the saltwater from the engine is crucial. BigToy provides a place to rinse and flush the motor after use, while Sweetwater Landing's location on the Caloosahatchee River means boaters receive a freshwater flush as they travel back upriver from the Gulf.
PREPPING YOUR BOAT FOR STORAGE
---
According to Sweetwater Landing's Brandon Mayer, boaters should do three things before returning their boat to storage:
Raise your trim tabs so the forks lifting your boat won't damage them.
Wipe down your boat's interior to avoid discoloration and premature aging.
Keep up with routine maintenance so your boat is always ready to go when you are.
One major storage mistake is using the wrong type of cover material for our climate. BigToy's Brian McMurphy says he sees a lot of people, especially those from up north, using canvas boat covers. Canvas doesn't breathe enough, which increases the risk of mildew in the boat. He recommends using a cover made of the right material (Sunbrella fabric or similar) for the Southwest Florida environment.
If you have questions about boat storage in our area, you can always reach out to one of our many local marine experts who can point you in the right direction.
Remember to stay up to date by subscribing to our monthly newsletter, which contains all kinds of helpful boating info and events across Southwest Florida. See you on the water!
---
ABOUT THE EXPERTS
Sweetwater Landing Marina
Located on the Caloosahatchee River in Fort Myers, Sweetwater Landing offers indoor storage for boats up to a 45′ and wet slips for boats up to 130' LOA, and lots of convenient amenities. Sweetwater Landing is a member of the Marine Industries Association of SWFL and Tampa Bay.
sweetwaterlanding.net | 239-694-3850 | 630-881-9422 (Brandon Mayer)
BigToy
BigToy boasts a full marine service and storage facility in Venice as well as their Nokomis sales center that provides direct access to the Gulf of Mexico. BigToy is actively involved in the local marine communities including the Marine Industries Association of SWFL and Tampa Bay.
bigtoysales.com | 941-445-4514 | [email protected]