In 2019, the Coast Guard counted 4,168 boat accidents that involved 613 deaths, 2,559 injuries and approximately $55,000,000 in property damage as a result of recreational boating accidents. Operator inexperience is one of the primary contributing factors in accidents. No matter where you're cruising in SWFL, these boating safety reminders will help you avoid drama, danger, and disaster on the water.


NAVIGATION BASICS
---
Nav Charts
Our waterways contain hazards like sandbars and oyster beds, so navigation charts are your best friend. Whether yours are in GPS chartplotter or printed map form, keep them handy and study them often. Take the time to go on outings solely for the purpose of learning the landmarks and using your charts to become more familiar with your local waterways. A key to this is knowing your channel markers and aids to navigation, so be sure to know before you go!
Recognizing Shallow Water
Here in Southwest Florida, knowing where shallow areas are will help you avoid running aground. Tides and shoaling can change the underwater landscape, so in addition to relying on your channel markers and maps, boaters must keep an eye out for shallows.
Look for these things to help spot shallows:
Change in water color (one of many reasons to wear polarized sunglasses)
Birds standing in the water
Surface irregularities: waves breaking where they shouldn't or slick areas in otherwise choppy water
Boating Regulatory Zones
Respecting speed, no wake, and manatee zones is key to proper navigation on our coast. All captains need to follow these regulations, which you can find details on in your local boater's guide. Check out our boater's guide page for links to specific Lee County, Charlotte Harbor and Tampa Bay guides.
Right of Way
Without painted lines and traffic lights, it's up to every captain to know the right of way rules and maneuvering regulations in order to prevent boat collisions. Take the time to memorize a few basic right of way rules before hitting the water—and avoid hitting anyone else.
Crowded Waterways
Southwest Florida is experiencing unprecedented traffic on our waterways, including more novice boaters. It's up to each and every one of us to share the water in a responsible and safe manner, so we put together a specially curated list of 5 Tips for Navigating Crowded Waterways.

SAFETY GEAR
---
Engine Cut-Off Switch
Federal law requires the operator of a boat with an installed Engine Cut-Off Switch (ECOS) to use the ECOS link. The link is usually a coiled bungee cord lanyard clipped onto the operator's person, Personal Floatation Device (PFD), or clothing and the other end attached to the cut-off switch, but there are plenty of variations on the market, including electronic wireless devices.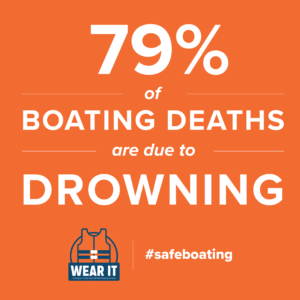 Must-Have Safety Gear
Although the U.S. Coast Guard requirements differ based on the kind and size of your vessel, keeping some basic gear onboard will help keep you safe and out of trouble with the authorities. Our friends at Discover Boating identified 5 pieces of must-have safety gear:
Life jackets
Throwable floatation devices
Fire extinguishers
Visual signaling devices
Sound signaling devices 
Personal Floatation Devices
You're required to have a wearable life jacket (Type I, II, or III) readily available for each person onboard. In case of an emergency, the first thing you should do is have all your passengers put on their life jackets. Don't forget about your furry friends—pet life jackets are always a good idea. Learn more about life jacket types and how to choose the right PFD for your boating lifestyle.
OTHER SAFETY TIPS
---
Know the Local Laws
Nothing dampens a day of fun on the boat like being cited for local safety or environmental violations. Check out our regulations page for easy links to the latest boating laws and regulations, Florida boating safety ID card requirements, and more. 
Practice Good Etiquette
Each time you take your boat out, you have a chance to make that particular day on the water more enjoyable and safer for yourself and other boaters around you. Some rules are obvious while others are lesser known, so check out our list of 5 Good Habits for every SWFL boater.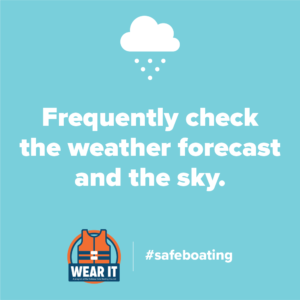 Keep an Eye on the Sky
Local boaters know a sunny morning doesn't guarantee a sunny day. Check weather reports in advance and postpone your boating plans if storms are likely. Even when the forecast looks fine, small localized storms can be less predictable. Keep an eye on the sky and tune into NOAA Weather Radio (usually found on VHF channels 1 through 9) for special weather alerts.
Use a Checklist
There are a lot of things to remember and it's easy for details to slip your mind in all the hustle and bustle of heading out on the boat. Keeping a pre-departure checklist like this one in your boat, truck, or garage will ensure you and your vessel are fully prepared for a great day on the water.
Stay Informed!
We share the boating regulations updates and other safety reminders on our social pages. Stay up to date on all that and more by following @goboatingflorida on Facebook and Instagram.
Thanks for doing your part to keep our Southwest Florida waterways safe for everyone.