October is definitely a 'transitional' month for most any of the Florida waters when it comes to inshore or offshore fishing. Air and water temperatures are coming down with the advent of the cold fronts from the north, east and northwest. Reef species move to shallower water and even inshore in some instances. Nonetheless, all species remain active and in good numbers with more migratory species, such as Spanish Mackerel, Permit and Kingfish arriving daily. Summertime heat is over.
I specialize fishing inshore on the west coast and realize that things begin to change up, sometimes dramatically in late October. However, while one may expect a continuation of a great October Redfish bite, it may change dramatically as cooler temperatures prevail as we approach November. I remain optimistic as long as the tide levels stay high with all of the rain we had early fall. October will continue to yield a good number of Redfish, big Bulls included. The Snook bite is good as is the Seatrout. Throw in the arrival of Triple Tail and this makes scouting and catching them a new experience for seasoned anglers. We have little to no reports of Red Tide to destroy and relocate our fish population. The waters of SW Florida are healthy and the numerous pods of bait fishes are proof. Groupers, Snappers (reef species), Permit, Kings, Spanish Mackerel are migrating. Bigger Sheepshead will be arriving soon.
October may be one's last, best chance for scoring a 'Redfish of a Lifetime' in 2020. Pictured here is Dave McKenzie from Ft. Myers with his first Redfish off of the docks at N. Captiva Pass on an outgoing tide. Nice job Dave!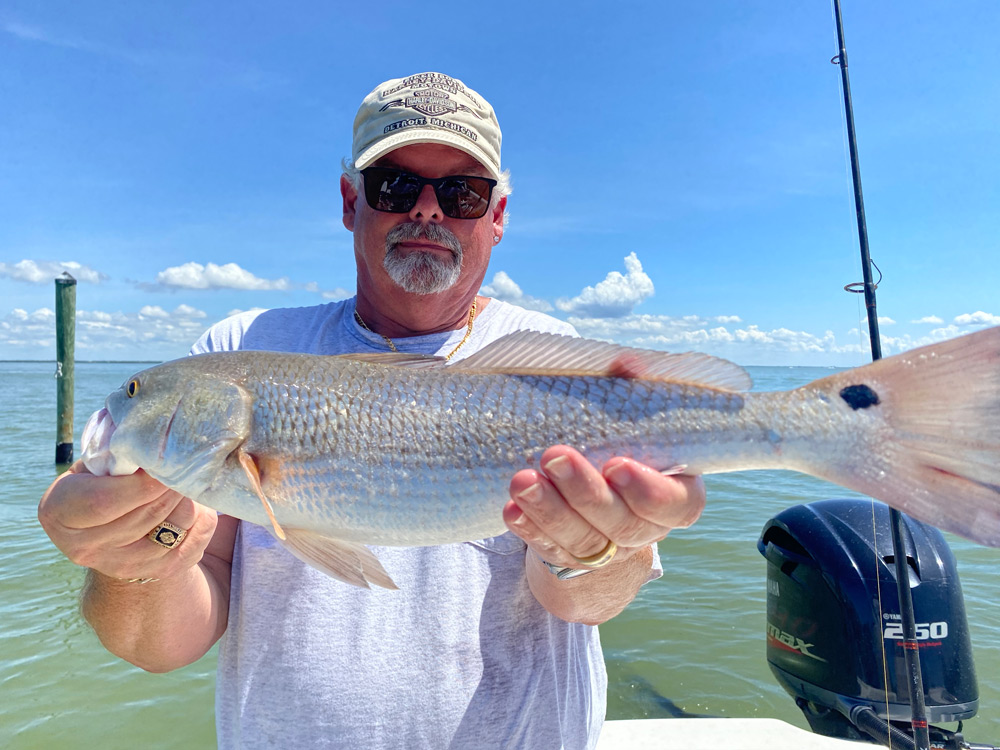 Long-time client Ken Laszczych and his friend Al Harrington, of Cape Coral are pictured with a pair of Snook and Redfish on a successful day of fishing Matlacha Pass. Great day on the water guys! Thanks for the memories and opportunity to photograph and good day.
This is Captain Terry Fisher of Fish Face Charters LLC reminding all that October is maybe the best month for a 'Redfish of a Lifetime'! Call me at 239-357-6829 or email [email protected] to book a charter on my vessel or yours. I am 'Captain for Hire' (by the hour) on your boat to assist with navigation, safety, fishing techniques and locations and complete instructions that will have you fishing and catching like a 'pro'! Check out my website at www.fishfacecharters.com.
By Captain Terry