Whether you're hoping to score a boat show special, want to trade fishing secrets with local pros, or just enjoy spending the day playing with the latest marine gadgets, having a plan of attack pays off. The Fort Myers Boat Show is just over a week away and with so much to see and do, we gathered our favorite boat show survival tips to help you make the most of your experience.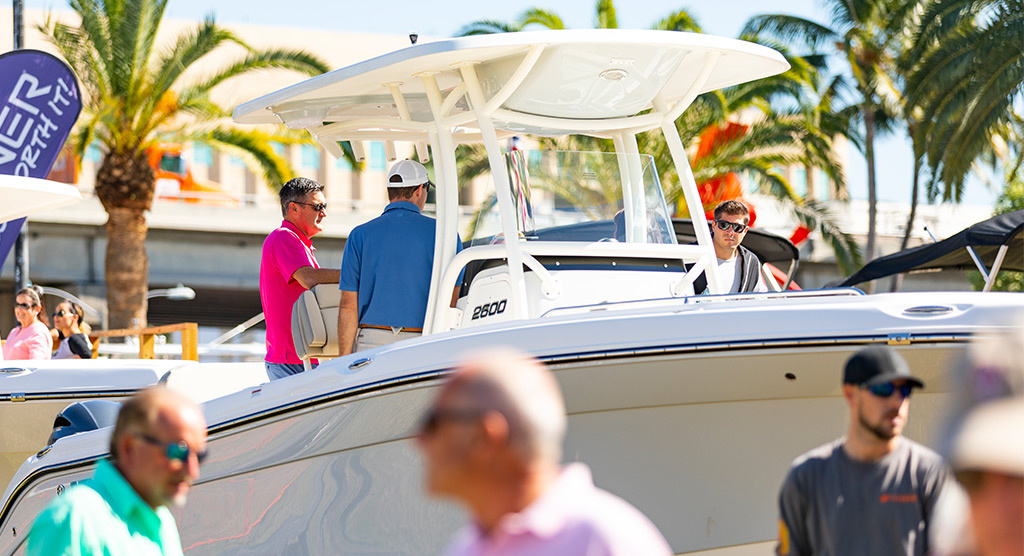 Inspect Boats Up Close
This is your opportunity to get up close and personal with a lot of models all in one place so don't be timid. Climb on in the boat and take a good look around. Stand at the helm and imagine cruising your local waters. Open all the hatches and storage lockers. Knock on the hull. Get a feel for the layout, the quality, and the style.
Score the Best Deal on a Boat
It's no secret that most dealers offer special boat show pricing, so doing your homework before the show helps you take advantage of these deals with a lot more confidence.
If you already have a specific style or a few models in mind, go online and look at the list of manufacturers and dealers participating in the show. This not only helps you plan your visit but allows you to reach out to certain dealers before the show about the brands and boats you're interested in. If you're a first time boat buyer trying to determine what type of boat's right for you, check out our list of 4 key questions to ask yourself.
Round up a list of all the questions that pop up during your research. Bring it to the show so you can get the answers when you're actually with the dealers. This can make comparisons and decisions a lot easier. For those attending the Fort Myers show, check out this year's dealers and exhibitors and boat show layout to chart your course ahead of time.
Don't forget to establish your budget beforehand as well. This may be the most important thing you can do before a boat show, especially if you and your family have differing opinions.
Learn Priceless Boating Info
All kinds of marine industry experts come together at boat shows to offer helpful info and answer questions. From free fishing seminars to maintenance tips to boating safety booths, think about which topics interest you and make those areas the first stops during your visit. Boat shows also put marine financing and insurance providers all in one place. Just like boat shopping, you can find a lot of information online, but sometimes it's just easier to talk to an expert in person.
What to Wear
This one's easy: slip-on shoes. Boat shows involve a lot of walking and comfy footwear is crucial, but don't reach for your sneakers. Most dealers will ask you to remove your shoes to avoid scuffing their new boats so opting for slip-on shoes will save you tons of time while hopping from boat to boat.
Bring the Whole Family
With a variety of things to see and do including kids' activities, clothing and gifts for water lovers, and plenty of tasty food and cold drinks, boat shows offer something for everyone. The Fort Myers Boat Show is a great example of how you can plan a whole day (or weekend) around the show, soaking up all the action at the event before exploring popular restaurants and bars just a block away.
SWFL Boat Show Season
The Fort Myers Boat Show kicks off boat show season here in Southwest Florida and is arguably one of the most impressive shows in the state. Head downtown November 21-24 to check out hundreds of exhibitors gathered along the Caloosahatchee River in the scenic Downtown River District.
Now that you know how to "boat show" like a pro, be sure to follow @GoBoatingFlorida on social media for the latest boat show updates and info!