I always love fishing the flats and backwaters of Punta Rassa, Pine Island Sound, Charlotte Harbor and Matlacha Pass; particularly this time of year. The tides are accommodating and the fishing is good. Lots of nice baits available at the bait shops as well as in the water for those wanting to try their skills with cast nets.
September is a good month for all inshore species such as Redfish, Snook, Sea Trout, Pompano, Ladyfish, Mangrove Snappers and others. They can all be caught using the same basic techniques with live shrimps under a popping cork or fished on the bottom with or without weights. Artificial baits are effective as well. The key is to locate the fish and make a presentation. Keep moving around until they are located. Best fishing will be during an incoming or outgoing tide. Slack tides offer little to no action, except for small bait 'stealers' such as Pinfish and Puffers.
Pictured here is Parker Carwile of St. James City, Florida with a nice Redfish. His friend, John Marshall of Beaufort, S. C. is also pictured with one of his many Redfish catches during a 6 hour 'Captain for Hire' charter on Parker's inshore vessel. We started out working the flats (4-5 foot of water) catching Sea Trout until the tide levels increased, allowing us to move to back country locations around the spoil islands, oyster bars and shoals. Over 10 Redfish was caught during that trip together with other species such as; Mangrove Snapper, Sea Trout, Lady Fish and yes, 'late summer' catfish. Not only is John a great angler, but an outstanding chef and owner of one of Beaufort's finer restaurants, The Old Bull Tavern. Check it out on-line and if you ever get to Beaufort, I recommend making it your 1st stop, as you will likely want to eat there more than one time during your visit. Enjoyed the day with you two!
| | |
| --- | --- |
| | |
Another of my regular client and friend is Mr. Ken Laszczych of Cape Coral. Ken recently located here from the Washington, D. C. area to enjoy his retirement by boating and fishing. Ken and I go out often on his new Bay Boat chasing 'fishes of the season'. Ken is learning the waters, fishing techniques and locations that will make every future fishing trip a success. Last month and again this week, we are going for Redfish, Snook, Pompano and Mangrove Snapper. Ken is pictured with one of his nice Redfish during a 'Captain for Hire' just last week on his new boat. Ken is a really good angler. A few weeks ago he lost a huge Snook to the Mangroves when I failed to tighten the drag properly. I believe it troubles me more than him. Sorry Ken!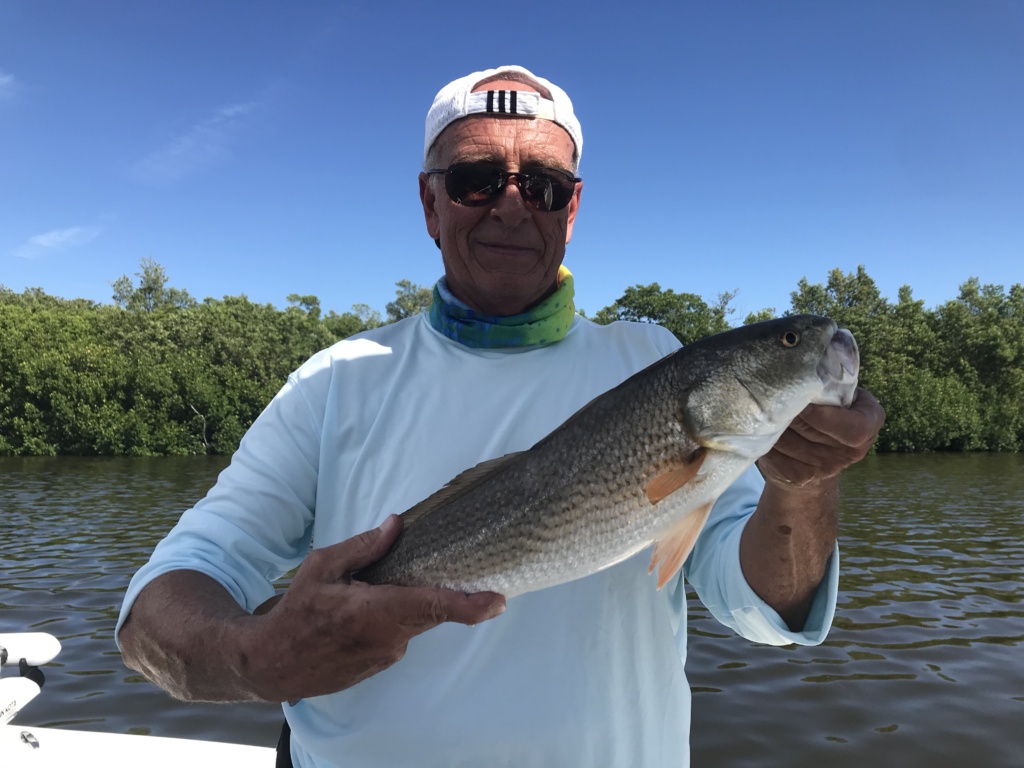 1st Mate Vicki and I recently returned from a short trip to Jensen Beach on the east coast to attend the annual 'Captains' meeting at River Palm Cottages and Fish Camp. Suppliers and sponsors such as; Costa, Simms, Yeti, G. Loomis Rods/Shimano and Nautilus Fly Reels hosted the event. Captains for Clean Waters were also present supporting and promoting their very important mission. Vicki and I love to stay at River Palm Cottages and Fish Camp. The location is perfect for both inshore and offshore fishing and the hospitality is second to none. We were hoping to fish the Atlantic for Tuna, Dolphin and Sailfish, but hurricane Huberto prevented that. I will be sharing more information on River Palm Cottages and Fish Camp, our suppliers and the Captains for Clean Waters organization in future articles.
This is Captain Terry Fisher of Fish Face Charters wishing everyone safe boating and tight lines. Call me at 239-357-6829 to schedule a charter on my vessel or a 'Captain for Hire' (by the hour) on yours. Email me at [email protected] to book as well. Check out my website at www.fishfacecharters.com.