While waking up to a white Christmas may be tradition in other parts of the country, here in Southwest Florida we celebrate the season in our own unique way. We put a tropical spin on some of the classics to create our own winter traditions, Floridian style. Here are a few telltale signs that you're celebrating the season here in sunny SWFL.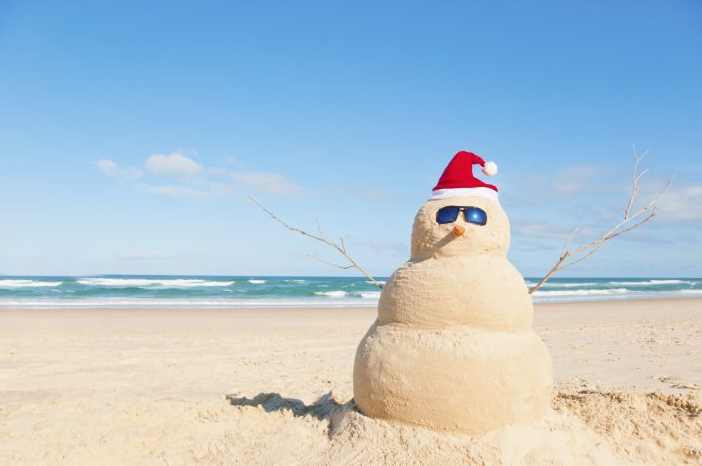 Decking the Halls…Out Back
 Residents of areas like Cape Coral and Naples know that you don't simply decorate the front of your home. Living on one of the many canals means the backyard needs special holiday treatment as well. This leads to stunning waterfront displays of twinkling lights strung on everything from docks and lanais to tiki huts and sailboat masts.
Light Tours by Boat
There's something extra magical about seeing the reflection of Christmas lights shimmering on the water. In addition to meandering through our area's historic neighborhoods by car, boaters can get off the beaten path and take in the shows that happen along the canals and riverfront homes. Passengers enjoying festive cocktails under cozy blankets creates a truly unique tropical version of this holiday tradition.
We Don't Build Snowmen
 We may not have snow, but we do have plenty of white stuff on the ground! Building a "sandman" and posing for photos to send to family in colder climates is one of the most iconic ways Floridians spread a little holiday cheer…and jealousy. Far from frosty, sandmen usually have sunglasses for eyes, shells for buttons, palm fronds for arms and a beach hat to cap it all off. Just like snow, sand forms better when its packed tightly into a ball. Floridians know to build theirs close to the waves, but not so close that he'll "melt" too quickly. Sing it with us—Sandy the Sandman was a jolly, happy soul!
Going Back in Time
Nothing symbolizes the holidays in Fort Myers quite like the historic Edison & Ford Winter Estates, neighboring homes nestled on the waterfront between McGregor Blvd. and the Caloosahatchee River. Each year the homes are meticulously decorated just as they would have been back in 1900 while modern lighting illuminates the garden, a sight that Edison himself certainly would have enjoyed. The estates are open year-round but strolling the grounds at night alongside Victorian-era Christmas carolers is a tradition unlike any other.
Christmas Classics by Moonlight
As families across the country cozy up on the sofa to watch holiday movies, we take the scenic route.Southwest Florida's signature winter weather allows us to make those memories outside under the stars, on the lanai or by the pool. Can you imagine trying to watch a holiday movie outside among piles of snow and sheets of ice? We can't either!
Happy Holidays
 Do you have any holiday traditions that make your northern friends want to trade blizzards for beaches, too? Send us a photo of you enjoying your Floridian holiday through Facebook or Instagram for a chance to be featured on our page. The Go Boating Florida team wishes you and yours a very happy holiday season!
P.S. If one of your annual traditions is waiting until the last minute to buy presents, check out our top 12 gifts for every budgetto make shopping go a little smoother.