By Captain Terry Fisher
Great news for the Christmas and New Year's Holiday anglers! The water has begun to clear around the mouth of the Caloosahatchee River and San Carlos Bay. I have had good fishing success in those areas as well as throughout Pine Island Sound.
Offshore: fishing has been spotty but better farther offshore, starting in forty-five, plus foot of water. FWC Reports are that the Red Tide is subsiding and no longer an issue for the winter species such as Sheepshead, Grouper, Snapper, Kingfish and other species. Cooler water should bring plenty of reef fishes closer to the islands of Sanibel, Captiva and Cayo Costa for anglers with 'range' restrictions. Inshore: fishing has proven the above comments, in as much as Grouper, Black Drum, larger Sheepshead and Seatrouts are in and around piles located within the Inter-Coastal waters.
Pictured here is father and son team Roger and Ryan Rockenbaugh. Roger lives in Ft. Myers and Ryan in Chicago, Ill. Roger is pictured holding up a large Sheepshead and Black Drum while son Ryan, holds one of the larger Seatrout of the day. Both men are regulars aboard Fish Face II and are also pictured with a net full of fish.
New clients (neighbors), Jack, wife Shelly and daughter Claire Gerhardt of Minnesota recently spent time aboard Fish Face II for fishing, beaching and dining. They reside in lower Minnesota but own a home in Cape Coral, Florida as well. Shelly and Claire decided to try their hands at fishing and are each pictured with one of their many Seatrouts. Jack is pictured with one of the seasons biggest Sheepshead. Great job friends. Looking forward to seeing you again in April.
Recently, I had the pleasure of spending a half-day on the water with my 1st Mate Vicki offshore chasing Kingfish, Spanish Mackerel and Triple Tail. We are each pictured with a nice Triple Tail that we plan on eating over the Christmas and New Years Holidays.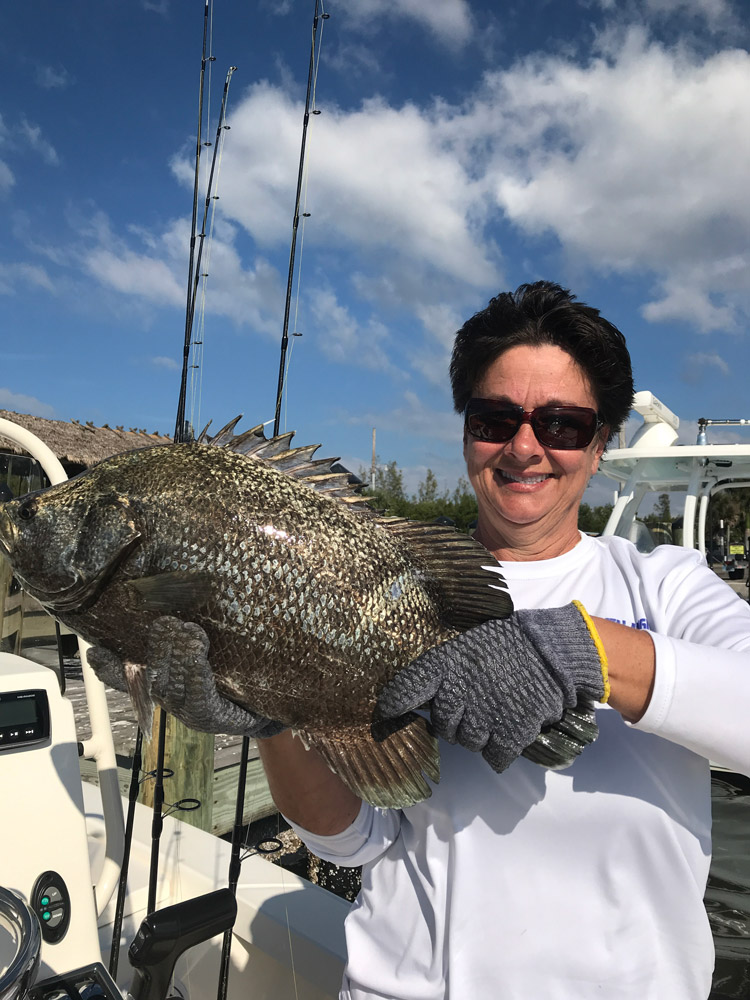 This is Captain Terry Fisher wishing everyone, Merry Christmas! Charter information may be obtained by calling me direct at 239-357-6829 or by emailing fishfacecharters@yahoo.com. Website address is www.fishfacecharters.com. I am also available as 'Captain for Hire' on your vessel by the hour to insure that every fishing and boating adventure is a success. I offer safety and navigation instructions together with fishing techniques, equipment suggestions and fishing locations! Check out my monthly articles in Coastal Angler Magazine at Bass Pro Shop in Ft. Myers, Publix and at most all of the SWFMI member retail outlets.