By Captain Terry Fisher
Early October proved to produce a variety of fish, even though Hurricane Irma played havoc on water levels and water quality. I just returned from a diving and fishing trip to the Turks/Caicos Islands, but prior to departing I had the opportunity to take out some truly good anglers out and test the inshore fishing grounds for Seatrout, Mangrove Snapper, Snook, Sheepshead, Black Drum and Redfish.
Many Offshore Captains had reported uninterrupted successes soon after the passing of Hurricane Irma, while most inshore Captains, presented a dismal account. However, I was able to find fish, but not at the usual locations, especially in the creek mouths and back country flooded locations, holding mostly fresh water with little salinity.
Pictured here are three of my better lady anglers; Kristen Mory, Emily Moore and Tami Folkenflik each holding one of many fish landed during their annual gathering at Usseppa. Kristen and Tami each posed with a nice Black Drum and Emily has a big Redfish. They all live in St. Petersburg, Florida and I have the yearly pleasure of having them aboard my vessel, FISH FACE II. Our main target was Redfish but many other species joined the party including Snook, Mangrove Snapper and Seatrout. Great job ladies! See you next year.
Earlier that week, I took Jamie Neff, his brothers Bill and Steve along with Micheal (Jamie's 18 year old son), on their annual fishing charter. Steve resides in Cape Coral, while the others live and work in Indianapolis, Indiana. It is an annual ritual to spend time together on Sanibel Island fishing, beaching and enjoying each other's company. These guys are a real challenge to a fishing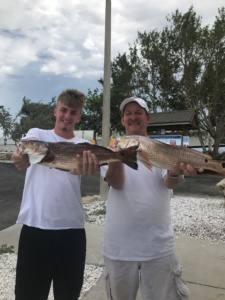 guide, as they are excellent fishermen. They caught and landed six Redfish as well as lots of small Seatrout, Mangrove Snapper, Jack Crevalle and Lady Fish prior to calling it quits. These guys are a lot of fun to entertain and be with, especially when they catch fish. Otherwise, I must be prepared to swim home!
This is Captain Terry Fisher of Fish Face Charters wishing everyone safe boating and tighter lines! Stay 'on-line' for my next fishing report with pictures of mid to late October results. Check out my website at www.fishfacecharters.com. Feel free to call me at 239-357-6829 or email fishfacecharters@yahoo.com for charter reservations. I am also available as Captain for Hire (by the hour) on your vessel. I offer navigational, safety instructions as well as fishing techniques and locations that will insure every trip is successful. Pick up a copy of Coastal Angler Magazine for more of my fishing tips and techniques at Bass Pro Shop, Publix, Marine/Boat Dealers, many area bait and tackle shops.