We're gearing up for our largest event of the year – the Fort Myers Boat Show! With so much to see, learn and do, we want to make sure you feel as prepared as possible to get the most out of your boat show experience, no matter what show you're at. Whether you're there strictly for the boats, interested in discovering fishing tips from local anglers, or making your holiday wish list filled with the latest gadgets, you'll want to make sure you aren't leaving anything out. Whether you attend the show regularly or are planning your first visit, you can benefit from our tips below.
Up Close & Personal
One of the best things about boat shows is that you have a front row seat to all the makes and models you could ever dream of. Take advantage of the opportunity and if possible, climb on in (don't forget to remove your shoes!) the boat and take a look around. It can even be fun to look at boats outside of your budget. We all do a little day dreaming sometimes!
A boat show also puts marine financing, insurance and education providers all in one place so don't think boats are the only things you'll be able to learn about. Just like looking at boats, most of the information is available online, but sometimes it's easier just to talk to someone in person.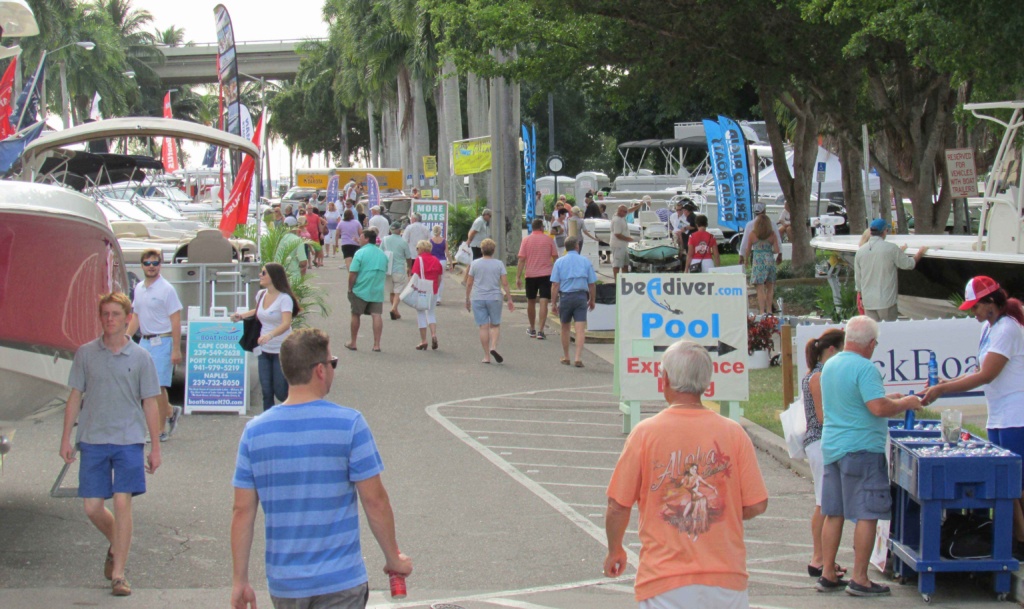 Preparation Is Key
Check out the list of vendors, exhibitors and boat lines who will be at the show ahead of time so you know how to best compare models and deals. Most boat shows will have this information listed on their website so you can plan your route ahead of time if you don't want to walk the entire show. This information can also be beneficial if you'd like to touch base with a certain dealer or broker to look at a certain brand or model while you're there. Bring a list of questions you've come up with during your pre-research so you get all the answers you are looking for when you're with the dealer.
Take advantage of any demos available! Buying a boat is just like buying a car. You may have your mind set on one, until you get behind the wheel of another.
Establishing your budget, especially if you and your spouse are on different pages, may be the most important preparation you can do before the show. The last thing you want to leave the boat show with is buyer's remorse. Some dealers offer special show pricing you really can't beat, so bring your check book, even if you're just going to look.
Aside from preparing numbers and facts, there are other important factors to consider for the show. Floridians get to enjoy boat show season when the weather cools off, but that doesn't mean the sun's rays have weakened. Treat a trip to the boat show just like boating itself by wearing comfortable, breathable clothes and shoes and also sunglasses to protect your eyes. Just like any other day under the Florida sun, wear sunscreen and don't forget to apply!
Come One, Come All!
Just like boating, the whole family can enjoy the boat show! With kids' activities, fishing and boating safety seminars, clothing and gifts for water lovers, and plenty of tasty food and cold drinks, there's something for everyone. This can even be a great time to determine what may be a necessity and what may be considered a luxury for your family. Make it a fun weekend and don't forget that even if you don't drive away with a boat in tow, you now have much more exposure to what is available directly in your area and will have built memories with your family!
Although boating itself may be the ultimate way to relax, sometimes a long day on your feet and in the sun can be tough especially for younger kids. Thankfully, most boat shows are multiple days long so you don't have to make a single day jam packed. Spend some time at the show then explore the local town to turn it into a mini-vacation for the family. Most restaurants and even some hotels offer specials during boat show weekends.
Upcoming Show
This year's Fort Myers Boat Show runs Thursday, Nov. 16th through Sunday, Nov. 19th right along the Caloosahatchee in Downtown Fort Myers. With a booming marine industry along with redevelopment in the downtown area, the show's redesigned and expanded layout features more boats, products, and services than ever. To prep for this year's show and to buy your tickets, check out more event details on our website and follow Go Boating Florida on Facebook.