Subject to working around the squalls and storms, fishing was good over the last 10 days or so. Pictured here is Mrs. Lou Wolsefer of Clairmont, Florida holding a big Spanish Mackerel, one of many fish she caught on a half-day charter. Her son, Evan, is holding a nice size Seatrout. I had the pleasure of taking the Mark Wolsefer family and their friends on three expeditions last week while they vacationed on N. Captiva. Some of the family and friends are featured in a photo prior to departing on one of their adventures. Thanks for the memories guys and gals!
The Redfish bite is on. Most of my clients have been getting them. Jim Geiger of Cape Coral and his brother-in-law, Darren Chamberlain (visiting from San Francisco, California) are pictured with one of several Redfish they caught in the 'back-country' of Pine Island Sound during an incoming tide. Great going men! Jim is a retired Navy E-8 level sailor (that is big) with 20 plus years of service. Thank you Jim from this Jarhead! People like you are the reason we are all free here in the USA!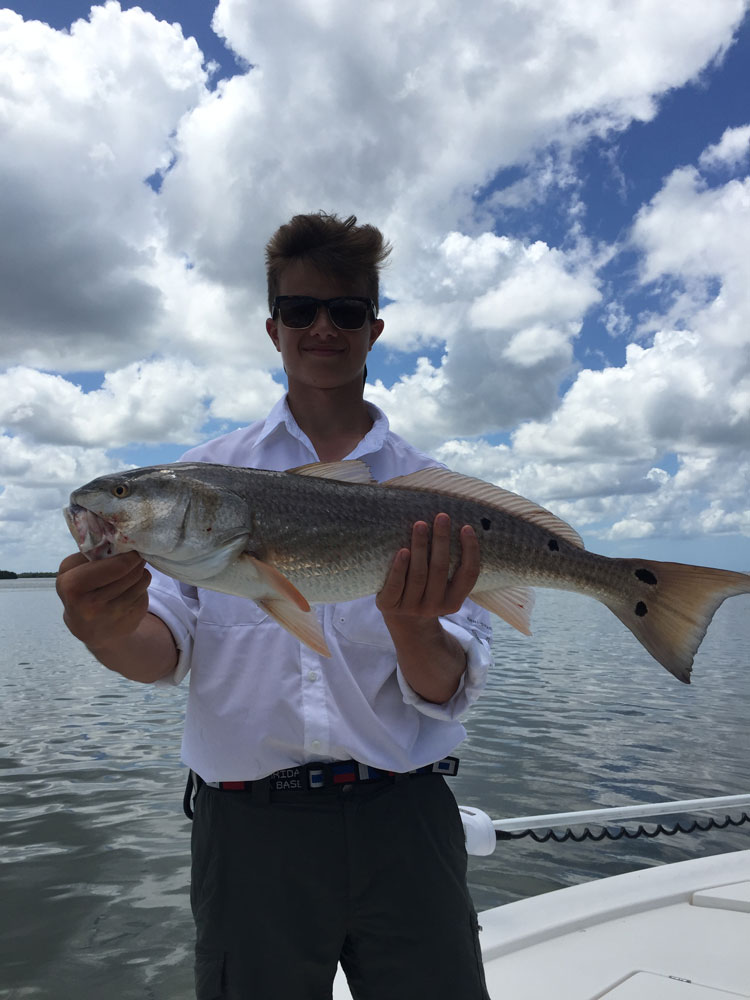 I was also honored when Dr. Bill Slomka of West Palm Beach, Florida contracted me to take his brother, Thomas and nephew, Steven Slomka (15) of Orchard Park, N.Y. on a charter to target Snook, Seatrout and Redfish. Steven is pictured with his first Redfish that measured out at over 29". Like his uncle Bill and father Thomas, Steven is an experienced angler. Great job of handling that big fish on light tackle son! Due to the tides and time of day, it took a while to locate it, but he did it.
High tide levels and strong currents have been key to locating and catching fish, regardless of species. Seatrout, Spanish Mackerel, Mangrove Snapper, Snook and Lady Fish are biting. All of this week should continue to produce good catches. Be careful of the lighting and storms and fish the cooler mornings for more fish activity, as when things heat up, it is harder on both the angler and the fish.
This is Captain Terry Fisher of Fish Face Charters wishing everyone tighter lines and safe boating. Contact me at 239-357-6829 or email fishfacecharters@yahoo.com to book your next fishing adventure. I am also available as 'Captain for Hire' on your vessel by the hour to assist with navigation, safety, fishing locations and techniques that will insure one knows where to go and when to go to catch fish year around on their own boat. More information regarding charters may be found on my website at www.fishfacecharters.com. Get your free copy of Coastal Angler Magazine for my monthly fishing report and tips.