Lots of fish were caught by recreational and professional fishermen alike over the 4th of July holiday. Weather and tides cooperated to bring forward a great time to be on the water for both offshore and inshore fisher-people.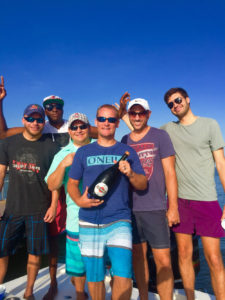 Pictured here is the SW Florida, Enterprise Leasing group, celebrating high marks for customer satisfaction. These are all managers of area locations. They insure that Enterprise clients get the most for their investment when leasing or renting a vehicle from Enterprise.  Mr. Matt Culp, Area Manager, set up a half day fishing trip to reward employees for a job well done. We all had a wonderful time boating and fishing on a beautiful morning in San Carlos Bay. Keep up the good work guys and hope to see you again next year!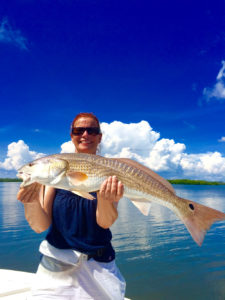 My neighbor, fisher-lady extraordinaire, Marie Callis of Cape Coral, Florida, is pictured with the biggest Redfish of her life. This 30", 12 lb. beauty was the last catch of the day on a recent half-day, afternoon charter in brutal, hot, humid, summer weather. This beauty took all she had to land it. I was impressed by the way she handled the light tackle. A lesser angler would have surrendered to the fish. Great job Marie! Marie and her father, Tom Moslander are not strangers to catching and fighting fish. Destination fishing is a common bond they share. I always look forward to taking them out, albeit the pressure is always on.
Next week should produce good fishing. I suggest early morning departures due to morning high tides and cooler conditions. Offshore and inshore should be good, depending on winds for offshore. Even though I am a firm believer in the highest of tides, summer tides usually will offer the best of both worlds, so fish in the morning when possible.
This is Captain Terry Fisher of Fish Face Charters wishing everyone, safe boating and tighter lines! Check out my website at www.fishfacecharters.com for charter information. Contact me direct at 239-357-6829 or email me at fishfacecharters@yahoo.com. I am also available as Captain for Hire on your vessel by the hour for navigational, safety instructions together with fishing techniques and locations that will insure your every boating or fishing trip will be a success. Pick up your free copy of Coastal Angler Magazine at Publix, Ft. Myers Marine, D&D Bait and Tackle (Matlacha), West Marine and Bass Pro Shop in Ft. Myers to name a few locations and read my most recent fishing articles and tips to assist you catch more fish!