By Michael Stewart
It was bluebird weather for the Cape Coral Cruise Club members taking part in the 2017 Legacy Harbour Cruise. All nine boats made it in, one boat being late while waiting for refurbished props to be reinstalled. First time Club cruisers, Bobby and Joyce Miller arrived is style with their prospective member pennant proudly displayed. Welcome to the Club!
First night post docktail food was provided by the cruisers – just too much and too sumptuous to list. If anyone goes hungry on one of our cruises, they only have themselves to blame.
Wednesday morning started with a breakfast of toasted breakfast bread and butter, fresh fruit, quiche mini-muffins, orange juice and tomato juice. Attendees brought their own coffee.  Following a short break after eating, everyone reassembled at the Legacy Harbour chickee hut to begin a scavenger hunt. There were three outstanding prizes to be awarded, consequently, competition among the CCCC members can get quite intense…! Fierce competition ensued as the boaters returned to their respective vessels in search of the listed items. Would you allow two mismatched oven mitts as "work gloves"? How about a jar of "teak oil" that looked suspiciously like vegetable oil? And did the same miniature sewing kit get passed around with the teensy baby pin in it? Anyway, a lot of fun was had and Moonlighter, Hardee II, and Happy Ours triumphed as the successful winners. The prizes were wrapped so that no-one could tell what was inside (contestants were not allowed to touch the packages). First place got to pick, then second, then third. Then everyone hauled their collections back to their boat and split to various downtown Ft. Myers restaurants for lunch.
A non-cruise related Club function occupied many of the cruisers for Wednesday dinner, however, the remaining cruisers held their own docktails and happy hour before heading on the town for dinner.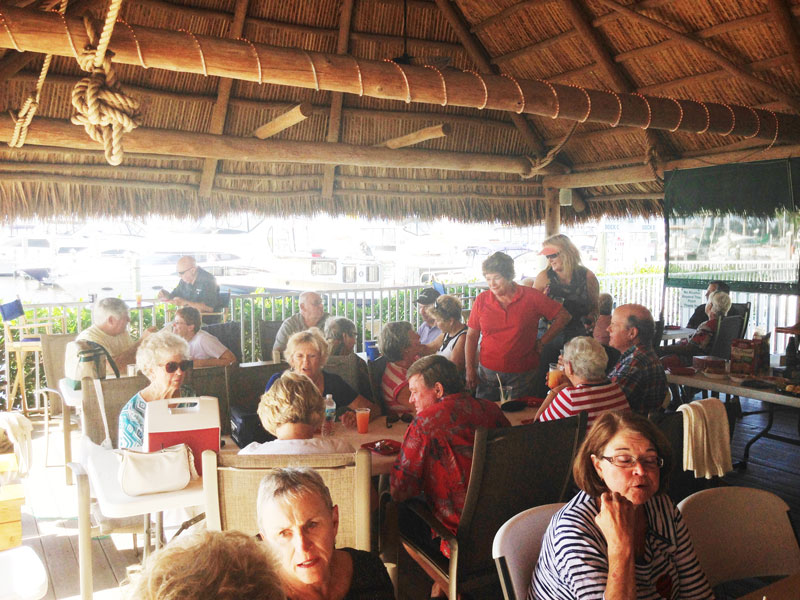 Thursday morning breakfast, included a breakfast quiche (imagine a casserole of eggs, diced potatoes, spinach, diced ham and spices), fresh fruit, breakfast bread and juices.  It was a game day for many attendees, lunch on your own, followed by dinner at Pinchers Crab Shack. The boaters were joined by some 15 club members who arrived at Legacy by land yacht that night to join in with us.
Prior to departure on Friday for their home ports, many boaters used the pump out facilities in preparation for the next month cruise to Pink Shell Resort. It is a LOT of fun cruising and being with fun people!
The Cape Coral Cruise Club is open to new members who own a boat with overnight accommodations and reside in the Cape Coral / Ft. Myers area. For membership information please contact Phil Kryger at 239-541-0236. Read additional Club information on its website, www.c-c-c-c.org.  Like us on Facebook.