(Ft. Myers Beach to Charlotte Harbor) Fishing has been good on high incoming tides for most species such as Seatrout, Mangrove Snappers, Redfish and Snook. The outgoing will also produce (especially for Snook). Snook are easier to catch on the outgoing tide because their locations are much more predictable. Work the current cuts around the creek mouths and spoil islands for them. Redfish on the other hand, are not as easy to find once they leave the mangroves and oyster beds. Small Sharks are everywhere on the flats. Cut pinfish (bleeding) should produce some fun action. They will also take shrimp while catching Seatrouts, Ladyfish and Spanish Mackerel suspended under a cork.
Picture here is a group of young baseball players from Tennessee, with their fathers. They took some time between tournament games in Ft. Myers to fish. Eric and Ben Chumley are together in a picture holding one of two sharks caught by Ben, while father Eric proudly 'displays' a big Seatrout. Their friends, Jason Martin and his son Ty Martin are pictured with a small 'Black Tip' shark of their own. Not to be out done, Jason's other son, Eli Martin caught a shark as well.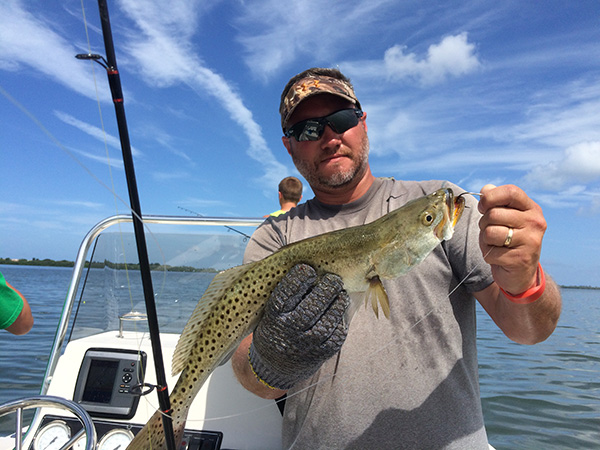 Lots of fun memories were made that day, as was on another father and son outing, featuring Mr. Dave Placher and his son Luke from Blue Ridge, Georgia holding a small 'Black Tip' shark. Luke also displays his large 'yellow mouth' (Seatrout) caught on a shrimp. Lots of fish were caught that afternoon, the day before they headed home from a nice visit with mom and grandmother in Cape Coral. Good job Luke!
In closing the new moon is on the horizon with good tides providing access to a lot of areas. Pilchards, Threadfins are around for the netting. Crabs and decent shrimps still available for live baiters. This is Captain Terry Fisher of Fish Face Charters wishing everyone 'tight lines'. Charter information on my vessel or yours may be obtained by calling me direct at 239-357-6829 or emailing fishfacecharters@yahoo.com. More articles, fishing tips, reports and charter services available may be found on my website: www.fishfacecharters.com