(Ft. Myers Beach to Charlotte Harbor) This week should be a good week for boaters and fishermen (ladies) alike. Warm weather, decent wind forecasts and full moon on the way should allow access to lots of locations. Last week was tough for offshore fishermen and captains as well as myself on the flats and in backcountry areas. Nonetheless, the Sheepshead bite was fantastic for those willing to brave the rain and wind. Larger Spanish Mackerel are showing up around Bokeelia. There are big Seatrout and nice Sheepshead on the flats and on the inside of the passes (respectively) on the northern end of Pine Island Sound. Pictured here is Mr. Ron Adkinson of Amherstburg, Ontario holding a huge Seatrout caught close to Cayo Costa under a cork with shrimp. His friend, Dieter Weimann of Fort Erie, Ontario holds one of many nice Sheepshead he caught inside North Captiva Pass.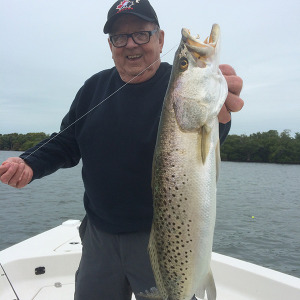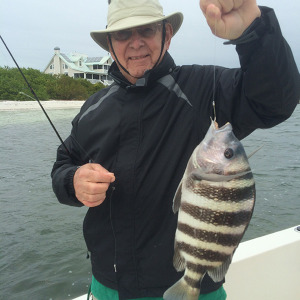 The southern end of Pine Island Sound (around the Punta Rassa area) produced some really big Sheepshead as well. Pictured here are two other of my clients; Mr. La Vern Woltjer of Willmar, Minnesota and his son, Mr. Matt Woltjer of New Prague, MN. each holding one of their numerous Sheepshead caught during a recent afternoon charter.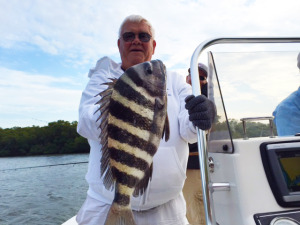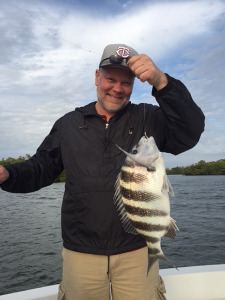 Snook, Redfish, Flounder and Jack Crevelle were among some of the other species caught for the week, but were not nearly as active as the Sheepshead. Blind and Redfish Passes are also holding fish.
This coming weekend (March 5, 6, 7 and Sunday March 8) will find my 1st Mate Vicki and I at our booth (FISH FACE CHARTERS), at Go Boating Florida's; Bonita Springs Boat Show (in the parking lot of the Dog Track). This is a great venue so be sure to attend. I will be doing fishing seminars as well and we look forward to seeing everyone. Those that follow my articles, please stop by and introduce yourself as we look forward to meeting you.
This is Captain Terry Fisher of Fish Face Charters wishing everyone 'tight lines'. Charter information may be obtained by calling me direct at 239-357-6829 or emailing fishfacecharters@yahoo.com. The website address providing charter information and other fishing tips is www.fishfacecharters.com